One of that handful of people who lived the way God has told us to live.
Ramesh Garu's full name was Yalamanchali Bandi Ramesh. He was born on Jan 29, 1972. His father's name is Dakshinamurthy Sharma, and his mother's name is Pushpavati. His spirituality wasn't inherited from his ancestral lineage, he was the only one who stood out in family when it came to spirituality. He learned Bhagavad Gita from his mother.
He was inspired by Chaitanyananda's discourses during the initial days and decided to lead a celibate (Brahmacharya) life. Later on, he also resigned from his job and dedicated all his time only to God.
In 1995 he started pursuing Bhagavad Gita, and in less than a year, he had memorized the entire Gita. In 1998 he was also awarded a Gold medal by Chinna Jiyar Swami. As a student of Brahmasri Apala Someswara Sanmukha Sarma Garu, he learned about Bhagavad Gita, Upanishads, and Sastras.
In 2010 the incident of the incarnation of Narasimha Swamy as narrated by Shanmukha Sharma Garu had inspired him a lot. Thereafter, he fell in love with Simhachalam and started visiting the place often. He had a strong desire to be like Prahlada. He used to earnestly pray to God to bless him with devotion like that of Prahlada. He was a good orator too. He had a vision of Narsimha Swamy too. Upon having darshan of Swamy, his devotion intensified and he gave discourses frequently. He decided that this life was only for Swamy and had no other purpose. In 2016 on Vijaya Dasami the statue of Prahlada was installed in Simhachalam. With all sincerity and dedication, this work was done. Sri Nannagaru said to Ramesh once "You've put a lot of effort to install this Prahlada (statue) in this place. There is justice to the work you have done because Narsimha Swamy gave darshan to Prahlada here, this place ought to have this statue, you did it with a lot of respect & high regards." Later on, he intensified the work of writing books and giving discourses. His will to spread the importance of Simhachalam had strengthened, and thereby arranged speeches of Sanmuka Sharma Garu and bought into a book named "Prahlada Chandrika"..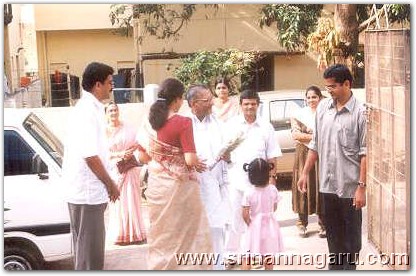 In 2019 January he organized the discourses of Sanmukha Sarma Garu about Mukundaravalambam. In that context, Mukundaravalambam Stotras has been bought to a book form and have been distributed to everyone. From Jan 23rd, 2018, the Knowledge in him over-flowed and thereby 1200 slokas were bought into light named as "Prahlada Jnana Vichikalu"
All that he learned in life about Bhagavad Gita, Ramayana, Maha Bharatham, Bhagavatam, Sankara's teachings of Adwaita, he integrated it with the devotion of Prahlada and preached about devotion, Jnana, and dispassion. The audience who listened to his speeches felt an inner joy in their hearts.
By acquaintance of Sadguru Sri Nannagaru, Ramesh Garu had learned how to lead the day to day life. In 2002 he paid the first visit to Arunachala, thereupon the relationship strengthened with Nannagaru. He was attracted by Ramana's teachings too. Sri Nannagaru used to say, "He is a walking Bhagavad Gita. If we ask him to close his eyes and pick a chapter & explain, even then he will be able to narrate it with ease". Such a was his efficiency!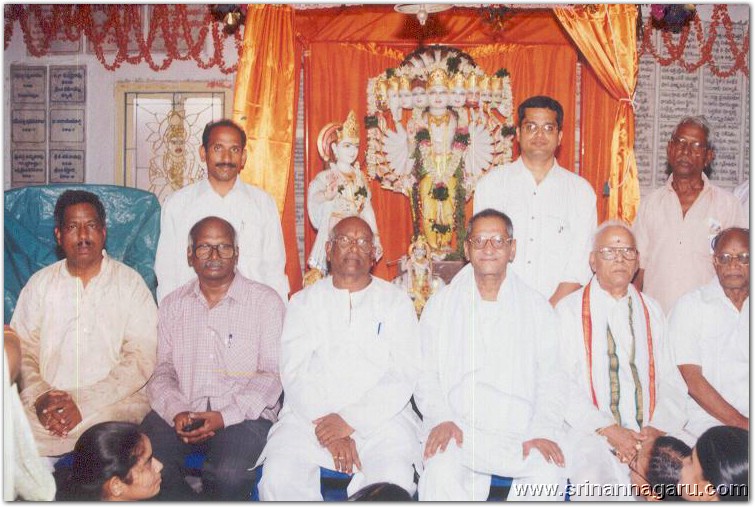 Nannagaru was very fond of Ramesh Garu not just because he had knowledge of Sastras(scholar) but also he was completely devoted to God. Over the years Ramesh Garu became close to Sri Nannagaru. When Ramesh Garu mentioned that Adi Sankaracharya's teachings were ultimate of all, then Sri Nannagaru expressed a lot of happiness. If Ramesh Garu was around, certainly Nannagaru used to ask him to address before his discourse began. Ramesh Garu never misused time.
Sri Krishna said in Gita, "The one who understands my words and illustrates those to others are very close to me". Ramesh Garu lived accordingly and became the chosen one.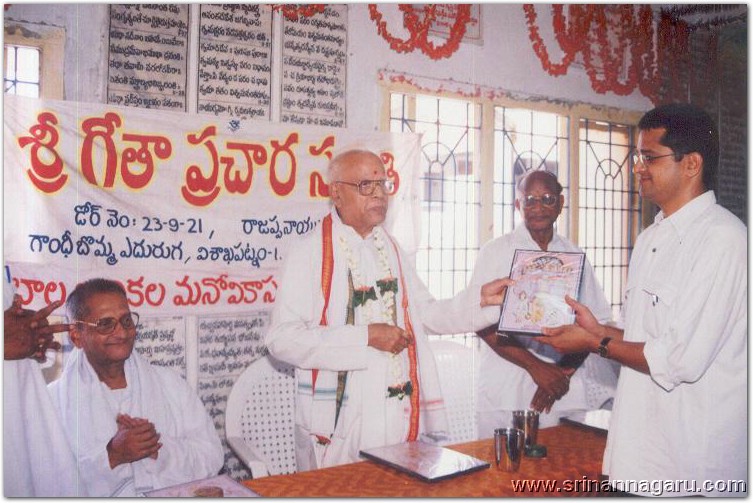 HHis teachings had started in 2010 in Purnananda Samaj for the age of 10-15 age group. Later he started with Bhagavadgita classes which were inaugurated by Sri Sampurnananda Swamy. Later his Satsangs spread far & wide. In a week he took classes for 5 days, and he would dedicate the rest of the two days(weekends) for darshan of Simhadrinadh. Not only did he have a proper understanding of the spiritual subject, but he also educated the youth on the lines of devotion, dispassion, and Jnana and had them experience inner peace. He was an inspiration to many young people who approached him. Whatever he had learned over years with great efforts, he poured all that into his teachings to whoever got in touch with him.
The qualities that are to be seen in a devotee are comprehensively found in Ramesh Garu. He was not only a soft-hearted person but never had hurtful intentions. He was dear to all devotees of Vizag. He was like a son to some, like a brother to some, and as a friend to all the Satsang devotees. He knows not what selfishness means! He didn't live for himself but had only God as the sole purpose.
Ramesh Garu's life is blessed, it's not important how long we have lived, but it's important how meaningfully we lived. He is a role model for all of us and it gives us immense pride that he was also a devotee among us of Sri Nannagaru.