I don't have anything that I lack in the material world, but there was some emptiness in my life. I would think, is this all life about? At that time, my dearest grandmother passed away. I had a bundle of sorrow, I had lots of questions to myself as to what is this life? Why are we taking birth and why are we dying? What is life after death? Etc., Those 10 days I used to pray Lord – "If at all you exist, please come to support me"
I cannot forget the day of Feb 9th, 1990. My friend Pushpa gave me a book named – "Amruta Vakulu" and told me to go through it. As I opened the book, I found a sentence – "If your body itself is not yours, then what is that belongs to you?" After reading this sentence I suddenly felt enlightened.
I went into deep thought of why am I crying that grandmother has passed away? This body is not mine, and during the course even I have to leave the body! This was an enlightening thought to me; as I saw Nannagaru's name on the book. I asked her as to who is Nannagaru?
Nannagaru resides in Jinnuru. My grandfather's sister said - I will take you to him if you want to visit him. Within 30 minutes of reading that sentence, we started our way to Jinnuru. I didn't know that it was the day where I was going to enter into a life of bliss.
As we stepped into his residence and offered my salutations to his feet, unknown happiness has shaken me. My grandmother was introducing me to Nannagaru – "After reading the book 'Amruta Vakulu' she came here for your blessings".
Nannagaru asked – "What did you read in the book"
I replied – "If your body itself is not yours, then what in this world belongs to you?"
He exclaimed saying – "After reading this sentence alone, you came to visit me, Lakshmi?"
As he was calling me again and again for 7-8 times, I felt that in my 23 years of life no one has called me as sweeter than he called me. I spent time for half an hour and left his place.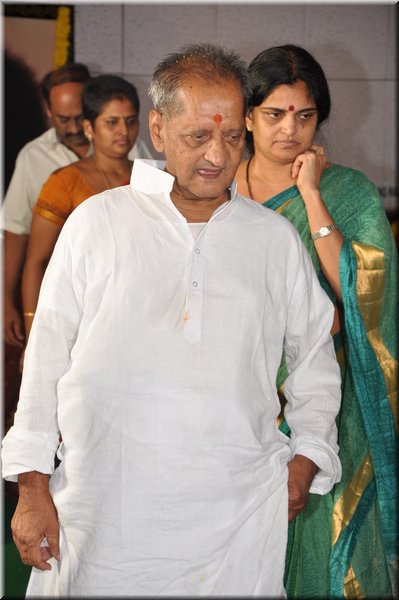 That whole night I continued to read 'Amruta Vakulu' and 'Nannavu Vacha' books. Upon reading one by one sentence from the book, I felt these words were dragging me to an unknown world. As I was reading sentences from the book, I could hear his voice through these sentences. As I was plucking flowers, I used to get a thought – "Offer him the flower of the ego 'I' at his feet'
If I was doing any work without involvement or interest, I used to get guidance from within that – "Do the work with diligence so that the old tendencies will vanish and no new tendencies will crop up."
In one of his spiritual discourses, Nannagaru said – "Give the Lord some space in your Hearts." then I didn't feel that he meant as thinking and chanting about God. This was my understanding – "As all my thoughts get suppressed, then I will actually start giving space to Lord in my heart".
"In the course of experiencing the blissful state, our mind is a show stopper. Don't bother about this mind" - Nannagaru
I love the above-said sentence of Nannagaru.
It is the mind which does practice, it is the mind which talks about practice and it is the mind that increases the practice.
Once as I was traveling with Nannagaru, I asked him "Is the attachment with the body, the root cause for all sorrows?
Nannagaru replied – "Yes Lakshmi, it is not difficult to remove this attachment as you think. Suppose you want to go to anybody's house, it is a thought, as you see it as thought, treat the body bound I also as a thought.
As you withdraw the body bound I as a thought, you can attain Jnana, right now here itself."
Nannagaru's preaching takes us to the state of Truth. In this journey of attaining the state of Truth, he explains all the obstacles from all angles so that our mind deeply understands this. Nannagaru explains to us to remove all these.
In this process, all the obstacles existing in the journey of attaining the Truth vanish away by themselves.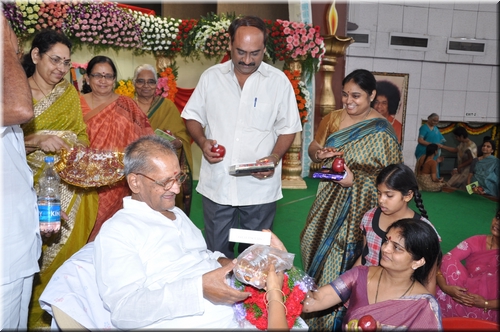 As he carries Bhagawan on his shoulders, he travels from village to village and brings enlightenment in everyone including atheists. His love is boundless. Everyone has a longing for His Love.
It will be talking less of Him, whether we speak about His Love, affection or the way He preaches Jnana out of Grace, etc.,
One day in Arunachala Siva temple some new devotees asked – "Today we are going to meet Nannagaru; it would be great if you could tell a few words about him". Treating Siva as the divine, you sang songs in the temple; but my God is Sri Nannagaru. Why? It is because, he explains everything about how to live, how to get relief from sorrow, how to attain peace, etc. As I continued to say there is no one equivalent to Nannagaru.
Every word of Nannagaru will make us think. His words educate us and bring our mind to enlightenment. Every word from his mouth leaves me in exclamation and joy. I used to think, what would have happened of me without Him in my life. I am grateful to Bhagawan for giving me the gift of Nannagaru.
Bhagawan! "Compared to your other devotees, you have been very partial unto us because you have gifted us Nannagaru. As he preaches about the bliss, he is driving us all into the boundless happiness. This is proof that you have grace on us. "
I am bounded to Arunachala, Bhagawan, and Sri Nannagaru. I do not love them because I have to love them; I love them because I can't desist from not loving them.