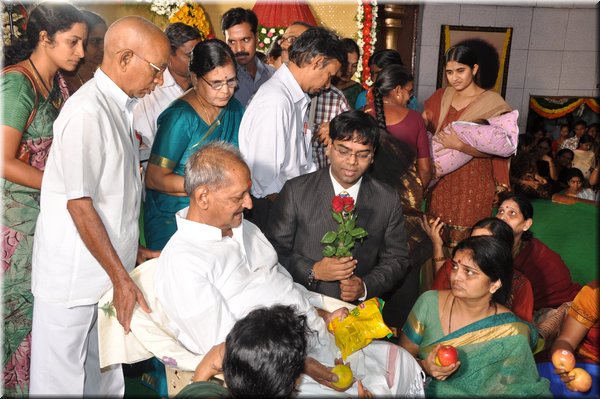 Sri Nannagaru arrived in Hyderabad one day before Guru Poornima. His train was delayed due to the ongoing Telangana Rail Roko campaign.
I could not meet him in the morning and I made my way to his place of stay in the afternoon.
Even though I went at 2 o clock I finally saw him at 6 o clock as there was a huge rush. A Living Entity, my friend in facebook also had come to meet him and we waited with others in another room.
All the while I was waiting I decided to initiate surrender to Sri Nannagaru and meditated on His consciousness actively.
Finally after 3.5 hrs I met him.
He looked at me and said ' Mithin my train was delayed by a few hours'. His words were like that of a child.
I nodded and said 'I came to know of it Sri Nannagaru.'
I introduced A Living Entity to him and came out of the room.
After this I don't remember what happened that day.
The next day was Guru Poornima.
I bought three red roses for Sri Nannagaru and took it to the hall in which the celebrations were going on.
I gave him the roses careful that there was no thorn.
He took the roses and said ' Roses are for December. How come roses have come in July?'
I smiled and did not know what to say.
He smiled and said ' Perhaps these are July roses.'
I smiled again.
Later in the day I went back to the hospital and returned for the lecture in the afternoon. Sri Nannagaru was talking about how Sri Krishna extols us to establish Him in the heart.
No sooner did he say this than I felt the presence of Sri Nannagaru in the heart. He was smiling and a small circle surrounded him in the heart centre and I felt the peculiar sensation of thousand ants crawling in that space.
It was as if Sri Nannagaru was cleansing me.
During the speech he suddenly looked at me and said ' How can there be a trade in Love Doctor garu?' He was Love Personified that moment. I could just gaze at him.
How impure is my Love for you Sri Nannagaru? I thought! I am devoid of pure love for you, I thought sadly.
His speech over he suddenly beckoned me to come to him and join him on stage.
I went and he held my face with his hands and looked deeply into my eyes and said ' Mithin is a refined soul. Like refined oil he is a refined soul. He is a refined soul amma.' He said looking at the devotees.
I felt happy.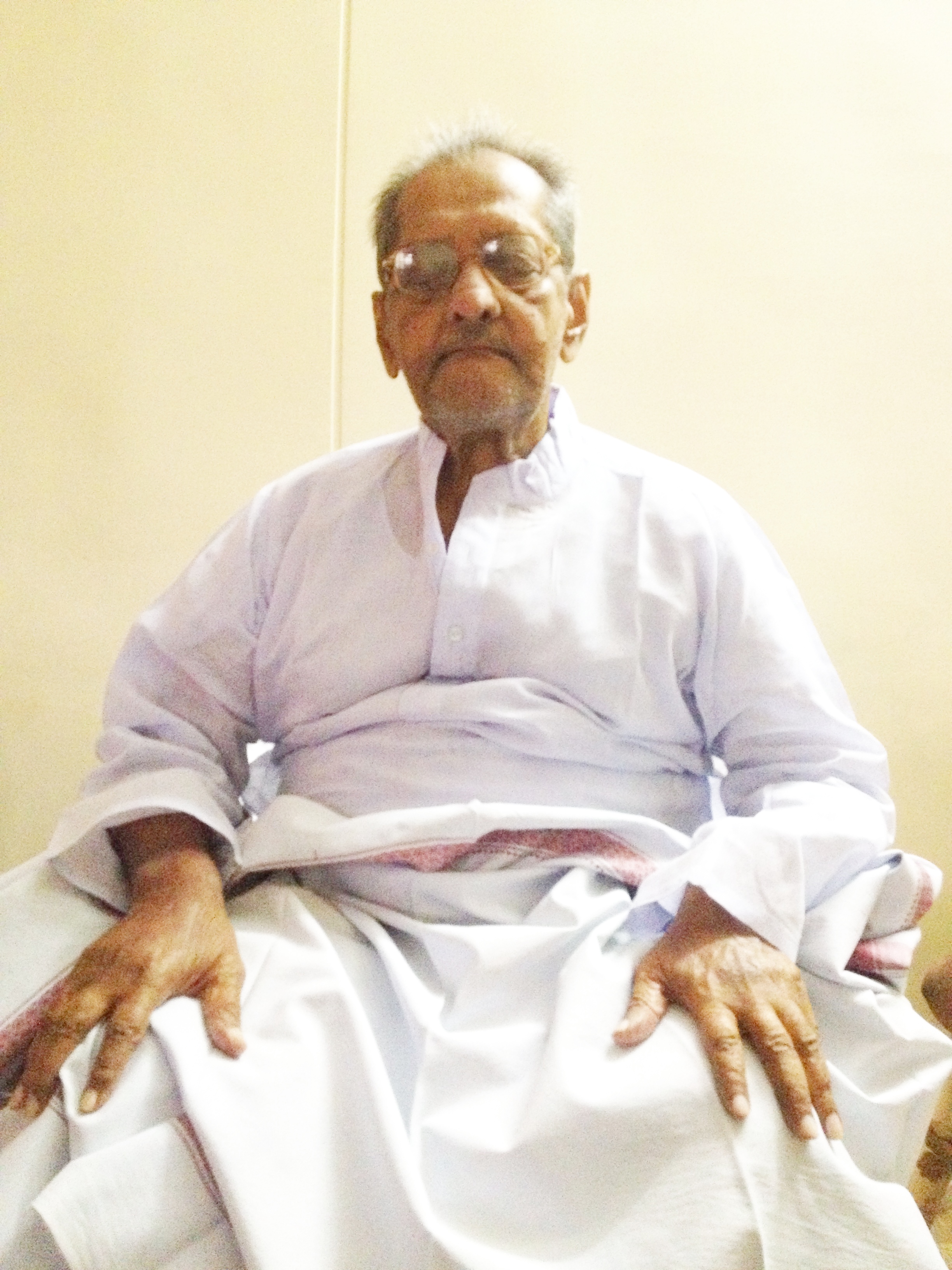 Next day I again went and met Sri Nannagaru.
That day he sat and gave a small talk about how things that are destined to happen will happen and those things that are not destined to happen will never happen.
He said 'You can't prevent what is happening or what is going to happen. If you understand this and do your duty with a sense of detachment, you will be fit to receive Jnana.'
I understood that by totally relying on Divine Will we are able to conquer the thought of doer ship and then that itself leads to Jnana.
After the satsang I went downstairs to leave for my house. But I was surprised to see that my car had been locked with a wheel clamp by the traffic police. I felt peaceful and was not agitated.
I contacted the traffic authorities and got my car released. It was then that I came to know that Greeshma was coming with her husband. I thought I will meet the couple and went straight back up the stairs to Sri Nannagaru.
After the introductions were made, we saw Sri Nannagaru coming out of his room. On seeing me he beamed a great smile as if he knew that I would not be able to leave.
We all sat with him with Greeshma and her husband sitting to his left and myself in the front.
'Mithin is a gifted talent isnt it so?' he asked Greeshma.
She nodded.
Then he made enquiries about the website and her husband's social service to which she replied with joy and pride.
He was silent for sometime and then suddenly said ' Shall I make Mithin a Guru?"
Greeshma smiled and nodded.
Sri Nannagaru continued ' He has finished medicine after working so hard. But he will become a Guru more easily.'
I burst out laughing and chided him mentally ' If there is a Mithin make him a Guru. When Mithin himself does not exist and everything is you who is the Guru then?'
After that I forgot what happened.
The next days too are vague and I am not able to remember what transpired except that he taught that God's Will alone exists.
During these few days I would not meditate in his presence. I would just look at him and allow no thought to come.
I felt that Sri Nannagaru was telling me to lose all concepts.
I did not associate him with God, Saint, Guru etc.
Whenever I sat in front of him I would just say there is a man sitting here, he is surrounded by devotees and we are in a room.
Nothing else would be allowed by me to rise in my mental makeup.
No projections, no associations, nothing.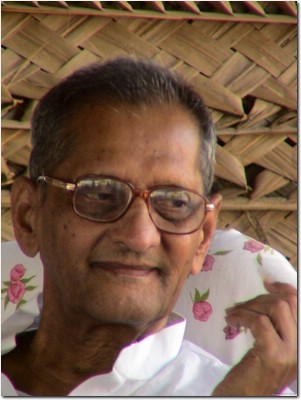 One day I took Prof Laxmi Narain (Face to Face with Bhagawan Ramana Maharshi) garu to meet him.
Sri Nannagaru said ' You will attain Ajapa Japa when there is no such person called Laxmi Narain. You are a good sadhaka. You will attain God Realization, in this life. You will attain the Sorrow less State. It will take time.'
Professor was extremely grateful to Sri Nannagaru's Assurance.
Later in the afternoon Sri Nannagaru looked at all the people assembled and said ' You all will attain Realization. It will be such Infinite Bliss that you will gasp for air. Know very well that nobody can prevent your attaining the Blissful State, but you must do sadhana to make the body live through the Super sensuous experience.'
Saying this he retired into his room and started to get ready to leave in the evening.
I accompanied his car to the railway station and carried one of his bags.
He sat on the platform and waited for the train to arrive.
He asked me to come and sit next to him on the seat and did not allow me to sit down on the floor.
The train arrived and everyone else started getting into the train.
'Stay here. Don't go anywhere. Is that our compartment?' he said pointing to the compartment which was parked a little away from him.
I said' Yes'
Sri Nannagaru went into Silence. The compartment was about 100 feet away from him. The train had halted for about fifteen minutes now and would be departing in another fifteen minutes.
Suddenly the train started.
It was a slow motion start and the door which led into Sri Nannagaru's compartment came and halted exactly in front of Sri Nannagaru.
Sri Nannagaru was smiling and the devotees marveled at the incident.
It was as if the train unable to bear separation from him and unable to make him walk to the compartment had come and stopped in front of him.
I smiled.
I tried to get up to go.
Sri Nannagaru again said ' Stay here. Don't go.'
Soon a few minutes later a devotee brought some flower garland to him.
It was as if Sri Nannagaru was waiting for the garland.
He took it and put it around me and smiled.
I returned the smile.
'Keep it for ten minutes' he said smiling.
I nodded.
After this he climbed the train and left Hyderabad for Jinnuru.
---
Dr.Mithin Aachi is an orthopaedic surgeon by profession. He is a star-gazer, painter, and writer. He is an amalgamation of all kinds of arts and activities. He is a happy go lucky person, who just sees love in everything. From the very tender age, he had an quest to know the truth. He admires and worships Rama Krishna and believes Nannagaru is an avatar of Rama Krishna and worships him in this form. He is a simple person who is an embodiment of love.