The words of my mother are equivalent to Veda! She used to always insist me in having darshan of you but my egoistic mind never listened to her words. The death of my grand father has disturbed me a lot, so I dint feel like going anywhere. Then I happened to listen to your Amruta Vakulu & Pasidi Palukulu. You are as equivalent as five elements of life for my mother. She had a lot of yearning to unite me with you.
First time I saw you in Satyanarayana Raju Garu house in Sakinetapalli. Though I sat far off from you, your look has fallen on me. As I remembered mother words, you called me nearer to where you sat. Having your darshan, I surrendered to you. You filled me completely with an unknown happiness. You said you will come to my home. You showered deservedness to me. As you entered into the house you shined as pure like 24 carat gold. As I continued to glance at you, in a second I felt whether this is a dream or live?
As you said – "we came into our house",
These words remembered the bond between you and me.
As I touched your feet, I heard a sweet phrase of 'Spotless Guru'.
I recollected the words of Siddanti long time ago – "You need not step out of your house. One great man will come to your house and you will be liberated."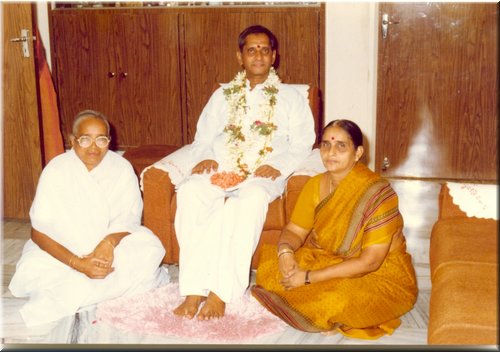 You tied me up with your love. In awaken state, dream state, when I stand, when I sit, you spoke with me. The moment of not remembering you was a scary thought. Every second, you followed me. I felt like I couldn't live without seeing you. This all happened not by wish of me. You pulled me towards you.
Before I used to have worry for everything, happiness if the task has been completed otherwise sorrow. Even if I lost a spoon, I used to have disharmony in mind. As a magician you vanished all worries. Without a knife in hand you did operation. Now, even if earth and sky unites together, this will not have any impact on me, you alone have enabled me to reach that state. You have tied me with your love. I thought I alone own this love, what a mad illusion!!! Every gopika in Repalli had a feeling that Krishna was hers, after seeing your love on all of us, I felt like this emotion was inculcated by you, Krishna.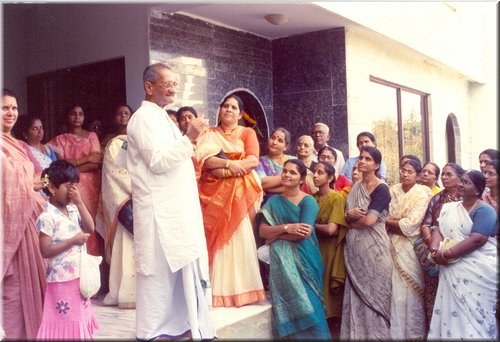 I rejoiced as you walked by waving the towel in your right hand.
I rejoiced the way you moved your hands while drinking water.
I rejoiced by looking at your poised face.
I rejoiced by hearing your nectar words
I rejoiced by glancing at your posture where you folded your legs and sat on sofa.
I rejoiced when you patter your stomach, and burp.
I rejoiced the way you look us through your closed eyes.
I rejoiced your charming look of blessing us with hand of reassurance, where you wave your head as a sign of acknowledgement that you listened to my words.
How many should I tell like this? After seeing you, I felt like there is nothing to be seen in the world.
Shall I tell how did I recognise this grace, until yesterday I had zeal to meet you, today I felt like where there is the place that you are not present?
How great is faith before sadhana!