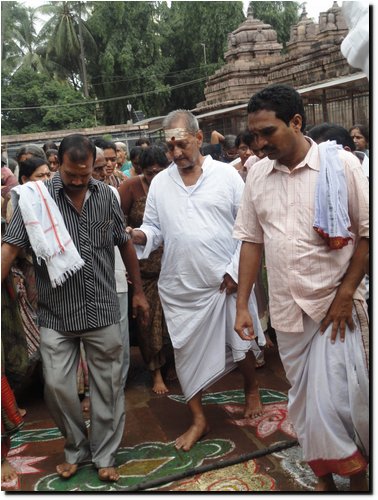 It was the first time that I visited Kasi. I had a rare opportunity of being accompanied by my Guru(Nanna garu) and my parents.We stayed in a hotel which was 10 mts walk from the place where Sri Nanna stayed. We heard that Nanna will be going out but the place he would be visiting was kept as a top secret.However we had an information that Nanna would be visiting the sankata mochana temple. Hearing this a huge crowd of devotees already left to that place and kept waiting for Nanna. My Father was pressing us that we will go out for sightseeing. But as usual I was being dragged towards Nanna. However I didnt want to disappoint my Material father in the name of my Spiritual Father.So I gave up and said to the Lord Visveshwara 'Let thy will be done'. We hired an auto and were advised by the autodriver that we first visit the Kala Bhairava temple. I consented for this. However my Heart was at Sankatamochana temple. We did accordingly and as we turned back from the temple, to our greatest astonishment, we were facing Nanna in front of us.He had a very grave composure,glowing with serenity and approached us majestically.We were standing aside giving him the way to enter the temple premises.He stopped beside us and Blessed my Father by touching his cheeks and entered the temple very quietly. We felt Blessed at this unexpected darshan and Blessings from Nanna garu. But the saddest part for me was that as Nanna was entering the temple we had to leave the temple.Many devotees were rushing towards Kala Bhairava temple on coming to know that Nanna was visitng the same. Few of them enquired as to the whereabouts of Nanna and few of them were shouting at me that Nanna is in Kalabhairava temple. But I had no other choice but to accompany my parents. It was a kind of mixed feelings for me. I didnt understand whether to be happy with the unexpected darshan OR be sad for not accompanying Nanna into the temple. The Only thing I understood was nothing is in my hands,Whether it can be called as God's will OR as Destiny.Leaving behind Nanna we visited Sarnath,Bharath Mata temple, Sankatmochan temple etc.,Finally we went back to the hotel at about 6.30pm in the evening.I knew that it wld not serve the purpose even if I rush to Nanna. Somehow I felt being dragged from within and ran towards Nanna's place. By the time I reached there, Nanna was sitting in a very deep silence. I was able to see only the feet of Nannagaru as many devotees were in our midst.Suddenly a deep silence overcame me in His presence and I experienced a very deep ecstasy inexpressible in words.This experience has put aside all my regrets of missing Nanna garu and totally rejuvenated me. I felt I would not have experienced this if I had been with Nanna throughout the day. Nanna took leave from us very shortly.While returning back to my hotel room, one of the devotees told me that most of the devotees waited for Sri Nanna in the sankatmochan temple but had to return disappointed as Nanna never visited the temple.When she explained me how they chased and traced Nannagaru and about how they spent the time with Him, I again felt sad of missing out the day with Him losing all the Bliss and ecstasy experienced in His presence till now.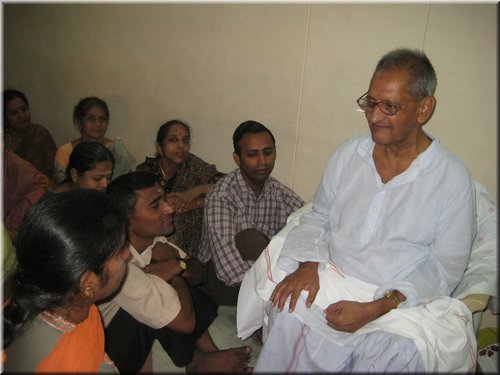 When I ponder back and rethink of the situation I feel I have been very foolish in my thinking. Had I not accompanied my parents and Had i not surrendered myself to the Lord's will, Perphaps I would have been in sankatmochan temple waiting for Nanna through out the day. Naturally we wouldnt have got the darshan at the Kala bhairava temple.And also the Bliss that I experienced was a result of the longing due to separation thru out the day.I wouldnt have had this if I were with Nanna through out the day. So the following were my lessons:
1)Nanna knows what is best for me.
2)Abidance by God's will leads to oneness perphaps much faster than devotion.Surrender is greater than Devotion.
3)True Devotion leads to True Suurender which in turn leads to Oneness.
4) Man is not where his body is; Man is where his Mind is.
5)Limiting Nanna to a Body is a CRIME.
6)Do never imitate others.
7)Everything happens in its own time.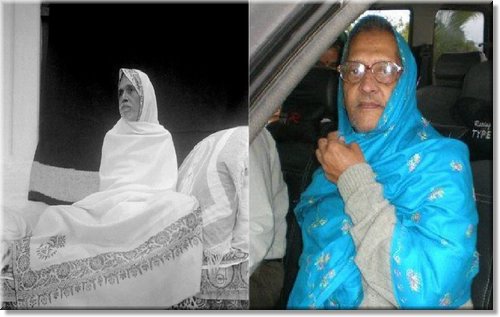 I shared this experience with my sister who could not visit Kasi. She felt consoled. Hope this experience would console all the devotees who thrive for Nanna's presence but cant attain the same.
Perphaps I can take an Instance of Bhagwan here. Rangan,a very intimate devotee of Bhagwan in his deep longing to see Bhagwan gets down from a running train and gets hurt. On being asked by Bhagwan he narrates as to why and how he gets hurt.
Listening to the same Bhagwan says,'Rangan seeing me is not important. Longing to see me is important.'
To take one more Instance:
The Gopi's Love for Krishna is considered to be the Highest form of Love.
After Lord Krishna left Brindavan, He never came back to see the Gopis. The Brindavan was just few miles away from Mathura.Still He never came back.There was a strong reason for this.After Krishna left Brindavan, His entire life was involved with the Politics involving kings and kingdoms.The Gopis adored Krishna as Gopala which made up their pure Love for Him.And Krishna never wanted the Gopis to lose their Gopala.
Had Krishna come back to Brindavan, The Gopi's impression about Krishna would have changed. They would have viewed Him as a King maker, Political leader, warrior etc., etc., and all their pure Love for Krishna would have been lost.Krishna never came back only for the welfare of the Gopis.Whether the Gopis knew or not as to why Krishna didnot come back to them, they accepted this gracefully without questioning Him.True devotion leads to Surrender and True Surrender leads to Oneness.It was only because Krishna never came back the Gopi's Love became eternal Otherwise this would have turned into an attachment only.Therefore whatever the Lord does is always for our Good and accepting the same will make us eternal.
---
This experience consoles everybody who feel that they are far away from Nanna, and also to those who think they are unable to accompany him. Limiting Guru to a body is absolutely crime, and this revealed practically through your words. He exists everywhere and in our hearts!Thank you for sharing this consoling experience.