I just visited Arunachalam and followed it with a visit to Jinnuru to visit Nannagaru.I was visiting with my two daughters and my husband Venu from Cleveland, Ohio.Nannagaru sent us a car to the station to receive us, a thought crossed my mind which guru sends a car to pick up his disciples? I have only heard of gurus who require their disciples to go through a million rules!! But that has been my experience with Nannagaru, no rules!!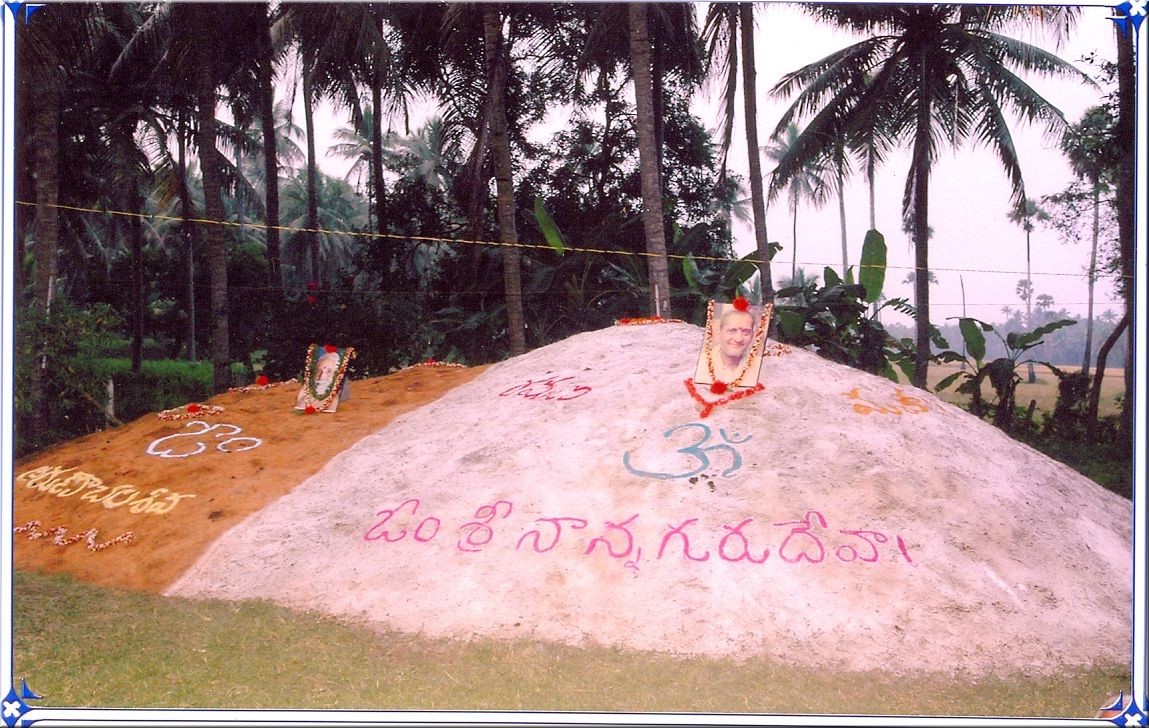 We stayed in a building opposite to his house and I was getting my kids ready to go see him when he sits outside. From previous experiences I know that the silence and presence you feel during those sessions can not be missed. But I took my time obsessing over the bathrooms, other silly concerns like what my kids would eat for breakfast etc., then I saw him at the entrance of the door of the house which we were staying. What kind of Guru walks over to meet his devotees? When I saw him at the door,I had no words,I was overwhelmed with his love, he asked me not to rush and sat in the Verandah. He inquired about my kids and how my job is, advised me not to put gold jewelry on the kids for safety.I was not surprised though, it was like a visit to my father's house, no rules, just plain love.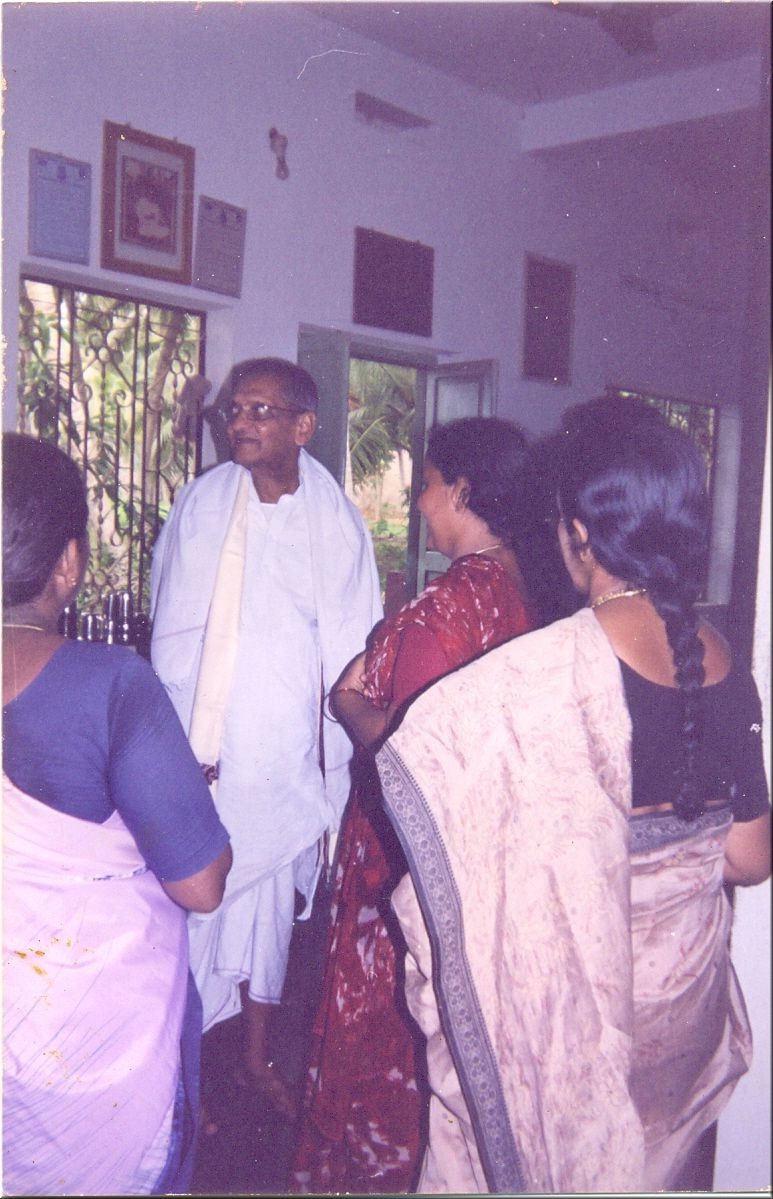 We had lunch at Nannagaru's house. Kannamma invited us kindly into her kitchen , we ate a very tasty lunch. I was surprised how my kids asked for seconds , thirds and ate whatever they were served, I felt he took care of my concern about what they would eat!! I was overwhelmed by Amma's love, I was visiting her after 12 years. After lunch we went to Ramanashram, Nannagru sat in silence for a while , chatted with the devotees, told me about this website and Greeshma. Ramana Jayanthi was the next day, every body was busy preparing for it. He spent the whole day with us. Which guru makes you feel like you are the only one? I had been to a spiritual retreat in London earlier to this with Nannagaru, but I was much more ignorant than now, but even then I could sense how special he made everybody feel.....you feel like you are the only one getting his attention and love.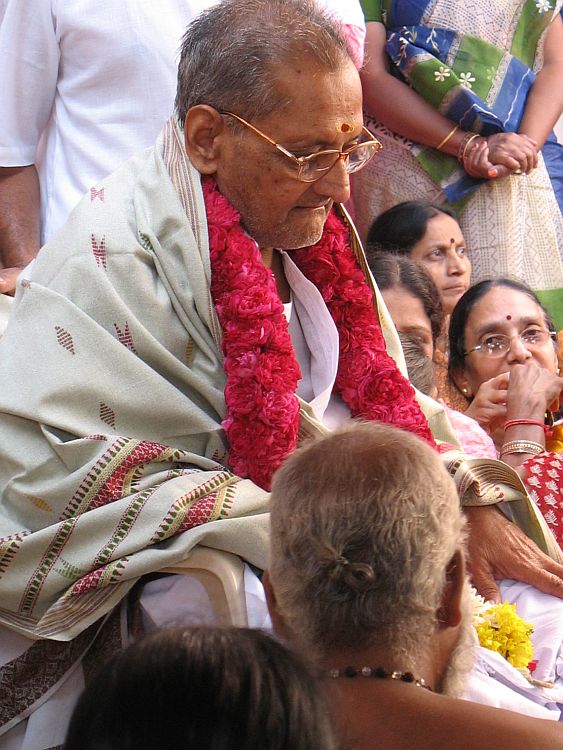 I remember vividly the trip with Nannagaru to chinchinada in a car to a devotee's house. He was looking outside through the window.
He turns and looks at me and says , do you think this world is real?
I nodded yes and no in confusion, wondering of course why he is asking me .
He looks outside contemplating, and says, it is not real, but it is real as part of the "Brahman". Everything exists inside Brahman, there cannot be anything exclusive to it, do you understand?
I remember it because it was an Aha moment for me, I was amazed at the clarity in those words.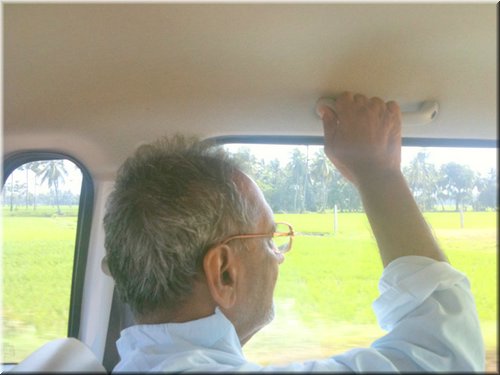 Before my leaving we sat in silence again in the verandah with him. I felt like I have somehow failed him, since I was not doing or practicing anything related to the "subject", so I asked him if anybody would fall from grace? When I mustered enough courage to ask that question , he looked at me lovingly said there was no falling from grace, it would see you thru till the end.......again I could feel tears welling up in my eyes, wanted to weep but with joy, ego being washed away...
I tried to remember the details of the words that he spoke to blog here , but all I remember is his love and Amma's love. amma packed food for the train journey for us. We left Jinnuru with his love in abundance to see us thru the end like he said....Om Ramanaya Namaha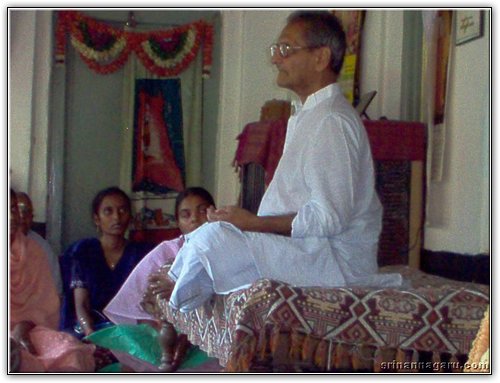 ---
Thank you for sharing this lovely experience with us. Guru has a special, unique relationship with each of his disciples individually.And it doesn't matter if the Guru has many disciples; he still has time and grace for each one, even sometimes simultaneously appearing in different places at the same time! Your note conveyed the same.