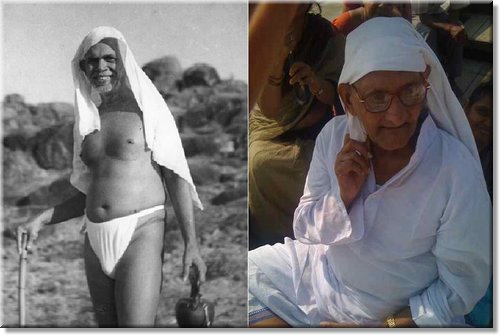 I was 12 years old. It was through my grandfather that I heard of Sri Ramana Maharshi. He told me that he was fortunate to have met him at Tiruvannamalai. As per him, mostly Ramana Maharshi was a man of few words and very short tempered. He used to say that "God is within you, search for him within rather than look for him in the polluted outside world". As per my grandfather, it seems that when Ramana Maharshi died people saw a shooting star, as it happens when very great souls leave this physical body. It was witnessed with Lord Krishna too. As per my grandfather, he also said among many rishis, only Sri Ramana was as addressed as Maharshi – a title only befitting him.
Years rolled by as I grew up, completed studies, got employed and married Shanthi who comes from a very religious background. Pooja phat gained prominence at home ever since.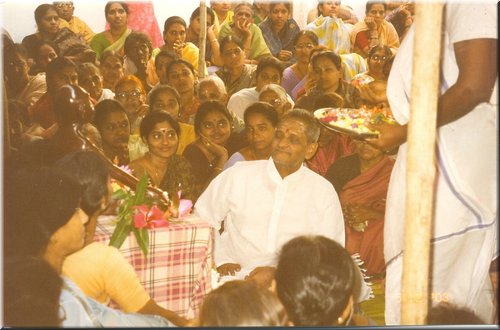 We came to know about Sri Nanna Garu in the year 1998, through Mr K.V.K. Raju who was my colleague, friend and our neighbour. My wife started attending satsangs and Sri Nanna Garu lectures as and when he was in town. Since I was occupied with my work I could not accompany Shanthi, but she would come home and narrate his preaching of Ramana Maharshi. This was also the time when we were going through a lot of mental stress regarding my daughter's preference of her marriage, for which we had our own reservations. Then, we were not matured enough to understand that only God's will prevails, not ours.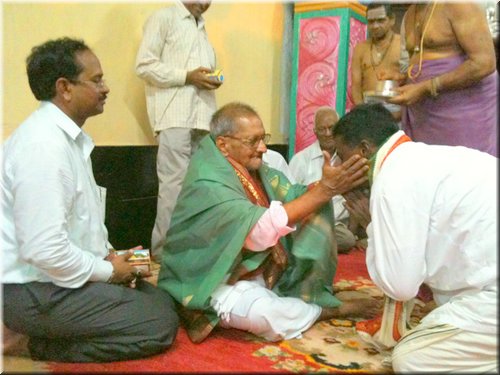 One early morning during those days of turmoil, I went to meet Sri Nanna Garu in private, at Smt Lakshmi's residence (Madhuranagar). I expected to meet someone with flowing hair, long orange robe and weathered beard. But he was a simple man who could have been my elder brother in a plain dhoti and banian with a towel flung across his shoulder.
My very first meeting with Sri Nanna Garu attracted me to him like iron ore to that of a magnet. His simplicity, calm face, gracious presence impressed me. As I sat at his feet he looked into my eyes and asked me if I was happy in life. I do not know how these great people can read one's mind. Though that was my first meeting with him, I felt like sharing my feelings - about my daughter's preference – with him. He listened to me without interrupting and in the end just closed his eyes for a while. He then looked into my eyes with a smile and said "ROOP, ANTHA BAGHA AVUTHUNDI" (Everything will be alright). I came out a relieved soul. Believe me, that within a week I agreed to perform my daughter's marriage as per her choice. Today she is happy and so are we. It was a win-win situation for both. It was Sri Nanna Garu who convinced me to see the reality in life.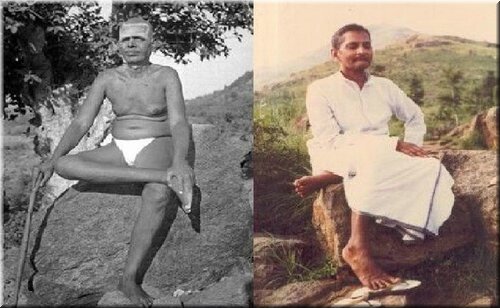 I do not know the connection but each time he sees me he calls me near to him and I am blessed by him.
Since then, every time I attend his lectures, it gives me a new HIGH that I have never felt before. Our visits to the Ramana Ashram at Tiruvannamalai have drawn us closer to Sri Ramana Maharshi.
We all pray God more as a routine and chant slokas and mantras that we learn from our parents and teachers. Mostly, we are confused between so many Gods we have, that we sail and drift in life like a rudderless boat. We may know that path but due to the darkness cannot navigate. This is where we need a guru, who like a rudder gives you direction in life and also sheds light in darkness for you to navigate the right path of life. In our case Sri Nanna Garu has done it for us. Let us make the best use of it.
---
Thank you Roop Kumar for sharing such a simple and profound experience. Guru brings or calls his devotees at his place at his will. His connections and ways are beyond our imagination.