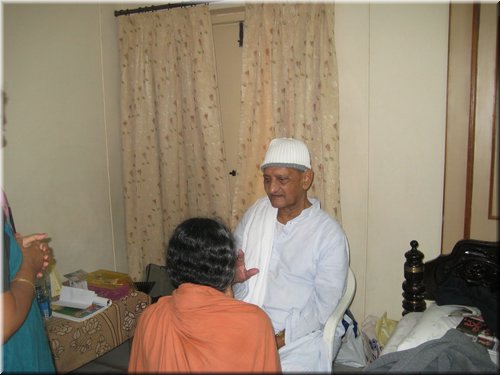 After having met him in Arunachala nearly 6 to 7 months later I met him in a flat in SR Nagar.
I was waiting for him for a long time outside his room and a common friend called Vasundhara garu promised to introduce me to him. Many devotess during this few months time told me that whenever they mentioned my name to Nannagaru he told them "He is soulmate of mine. Our bond is not of this birth." I used to feel happy whenever I heard that. My arrogance, ego, and pride of being a young successful surgeon did not go though. I remembered a few times in the past few months that I had called him and spoke with him. He was very pleased with that.
One particular time when he came to the phone I said "Guru Bhyo Namaha ...salutaions to the Guru."
There was a pregnant pause from his side and he finally said in ecstasy "Mithin, I will come to your home one day."
Now as I remembered all those thoughts as I was sitting outside his flat I was also thinking of a great medical problem that my family member was facing. It was a life threatening complication and as a doctor I knew it could get worse. I had come to him to ask a miracle from him. I had realized my limitations.
I had prayed till then to all deities like Lord Venkateshwara, Durga and Sri Ramakrishna throughout my life.
For the first time in my life I was going to pray to a Living God to give me a boon.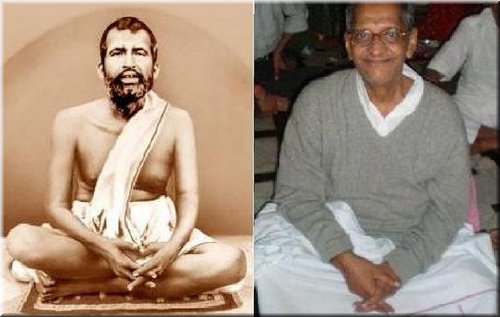 I was ushered into his presence by Vasundhara garu.
He looked at me and said " You need not wait outside. You can barge into my room anytime. Our bond is such." I was amazed by his love.
I told him the reason why I came. Till then I had prayed to idols to fulfill my needs. For the first time in my life I was praying to a living deity to vouchsafe a miracle.
He folded his hands in concern and pointed at Ramana's photo.
"I will ask Him" he said " He does everything."
At that moment an unknown assurance came into my mind and I knew everything would be well. ( everything did turn out well as in the next few months I saw a medical miracle unfold in front of my eyes!)
I got up to go.
"I consider you as God," I told him.
He craned his neck and said "What did you say?"
"I know you as God. You and Sri Ramakrishna are the same." I said fervently.
He looked at me and smiled "Yes...protect that feeling of yours and cherish it diligently. That is enough."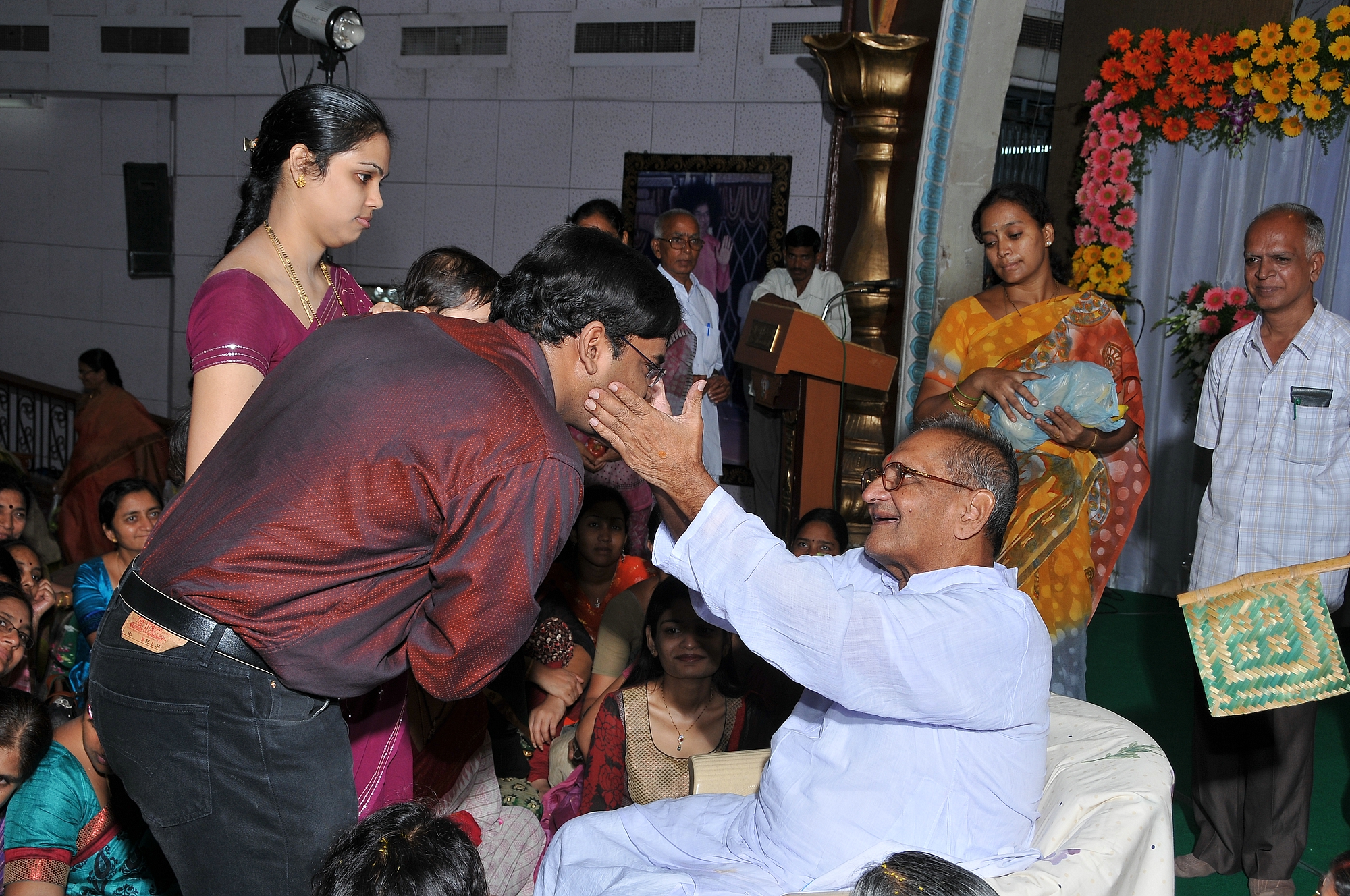 A few months later I met him again on his birthday ( or guru poornima ) I dont remember.
He asked me about my family member's health.
"By your grace a miracle has unfolded in front of my eyes" I told him.
He looked on disinterestedly.
A few weeks later I got a call from him.
"I have pain in my knees" he said.
I was scared to prescribe a medicine for him.
I could treat human beings but how could I treat God?
I was at my wits end as I prescribed a medicine for him knowing very well that if the pain did not come down I would die of shame that I could not cure his pain!
Thankfully he let me know after a few days that his pain had come down.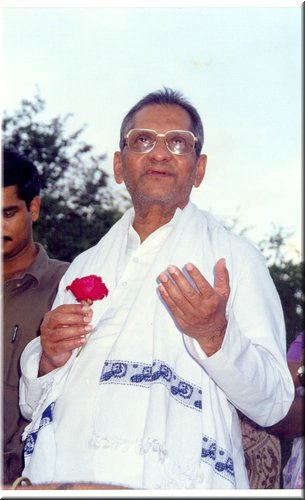 It was then on one such occasion that I came to know that he was in Hyderabad and I went to meet him.
On the way I thought 'There are lot of elderly people around Sri Nannagaru. If I become more and more known to him then I would get more number of patients from amongst his devotees and then I could earn lots o money and fame.'
Congratulating myself for my cunningness to use the Guru's name to forward my materialistic success I happily climbed upto the flat where he was staying.
He was having his breakfast.
Surrounding him there were many elderly devotees.
I could see that one of them had an Xray with him. He looked like a man with a hip problem.
This could be a patient for surgery I thought excitedly!
I could make money out of this. My colleagues will be jealous to see me operate.
I will gain in name and fame.
I felt very happy.
I approached the Guru.
Sri Nannagaru was having his breakfast.
His attender told him that I had come.
It was as if Sri Nannagaru was expecting me.
He nodded slowly as he wiped his hands on the towel.
He looked down at the floor for a minute and then looked up and said "Ah Mithin!"
He looked at the devotees now and said suddenly "If anyone of you have an orthopaedic problem go and show it to Dr Mithin."
He looked at me and smiled knowingly.
I hung my head in shame in front of the Pure Being.
What a Great Guru I have and what silly things I desire I thought.
Since then whenever I see devotee of Sri Nannagaru I started to see them free of cost as a service to Guru.
He found out about this a few months later when Gopika told him.
"Dont see free of cost" he said.
"Tap the rich and pat the poor" he said and smiled.
---
Dr.Mithin Aachi is an orthopaedic surgeon by profession. He is a star-gazer, painter, and writer. He is an amalgamation of all kinds of arts and activities. He is a happy go lucky person, who just sees love in everything. From the very tender age, he had an quest to know the truth. He admires and worships Rama Krishna and believes Nannagaru is an avatar of Rama Krishna and worships him in this form. He is a simple person who is an embodiment of love.