Pranam to Nannagaru's Holy feet ! Pranam to Devotees.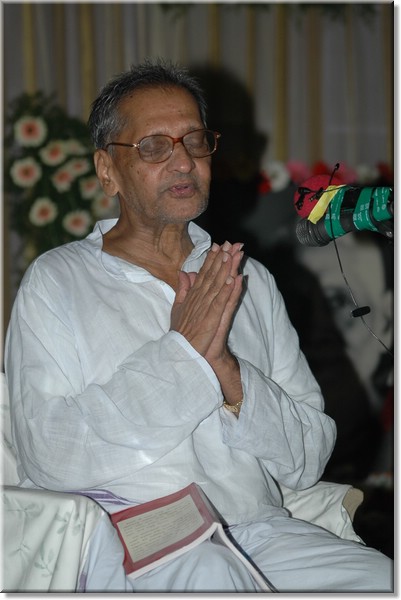 I met Nannagaru on May 15th , 2011 for the first time.It was totally by Gods grace.On May 15th , I decided to go to Ramanashramam which is in bathukamma gunta, hyderabad. I have been thinking of visiting that place from 6 months but no luck.
MY strong desire and inclination to visit holy saints made me ask about Nannagaru to one of the devotees.I requested him to provide me details about how to go to Jinnuru where Nannagaru usually resides to have darshan of him.
Suddenly another good devotee came, to my wonder told me that Nannagaru was in City to attend a marriage and I can have his darshan at SR nagar.I rushed to have my long cherished desire fulfilled.
There Mother Alivelu told me about Nannagaru's greatness and how fortunate I am to have his darshan . She told Nannagaru about what I narrated above.
Nannagaru , Ocean of love , asked me to come near and touched my cheeks with affection.I felt happy and made pranam.
When I came out only I realized about my good fortune when some good devotees patted me saying your are blessed to have touch of Nannagaru on your cheeks which happens rarely.
Nannagaru told me that I can visit Him in hyderabad itself and there is no need to come to jinnuru.He asked my name and I told 'RaviShankar'.
He said that he will address me 'shankar' and I happily said yes Nannagaru.Though it was part of my name, my parents and siblings call me shankar, I felt that Nannagru lovingly named me Shankar again.
I am not sure about my eligibility to receive His grace but I believe that Nannagaru mostly looks sincerity than eligibility.I feel that I am sincere enough in devotion wanting to have his darshan and that's the reason I was able to get his darshan.
I humbly request all devotees to shower their good blessings on me !