My respect and devotion towards Nannagaru has increased tri fold after my visit to India. I concentrated on my studies later on. The more I remembered him, the more I used to get dreams about him. Some were bitter, some were sweet but the thing to be happy about is I had his darshan some way or the other, though being thousands of miles away from him.
After few months, things were not going well, my graduation kept getting delayed , as my professor was not happy with my work. It was almost a year that it got delayed. I lost my patience and was very upset and depressed about this. This went on for an year and ye no result. With my parents consent I decided to visit India to get relieved for few days. This was my second visit to India after a year gap of last visit.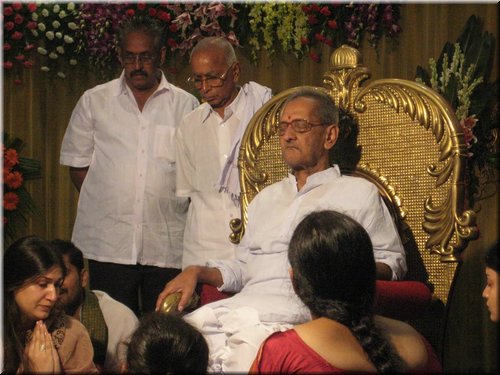 Nanna was coming to Hyderabad on the event of Guru Powrnami, I decided to book my ticket before his visit. The day I landed in India it was my birthday, the next day Nanna was to come to Hyderabad. I decided to celebrate with him, I brought all kinds of sweets, nuts, chocolates and garland, clothes. I prepared myself for the next day in a perfect way,
Next day ,early in the morning, at 5 am I rushed to SR Nagar Colony . I offered all the condiments one after the other to him, Nanna blessed me heart fully, and asked whether the bowls(in which I offered condiments) I brought were from my house or did i borrow them from here. I said I brought them from home, he gave an ecstatic smile. He told to pack everything carefully, all the bowls :) .Such is Nanna.My heart was filled with mirth and joy as I was waiting for this day since long time.
I discussed about my education with him, he said" Definitely, You will complete your Masters."
The next day was Guru Powrnami day, all rituals were performed, and we were in line to have glance of SadGuru. As his eyes fell on me, he continued to look into my eyes for a minute, and I made prostrations. He himself selected two apples from bag and closed his eyes, touching fruits to his heart he gave them to me. He said you will complete your masters. In no time all three days were over, and Nannagaru left to Jinnuru.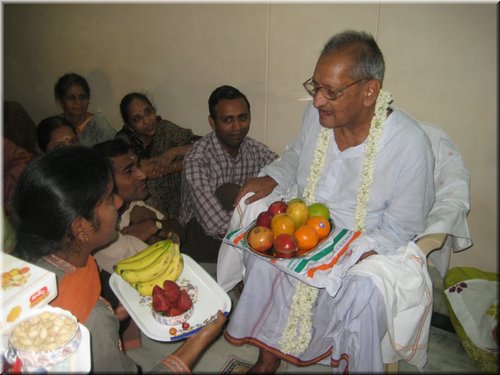 As a month passed by, time has come for me to depart to US, I visited Nanna this time before I left. We went around 3:00 AM, I sat somewhere behind, he noticed and blessed me, later he came forward and sat on a chair which was in front of me. As he looked into my eyes, I cried bitterly, couldn't control my tears. He consoled me more than a father, and I almost felt like he wiped my tears with his hands. He assured me that I would complete my masters, but I ,still couldnt stop my tears. He spoke about Abdul Kalam, how he struggled in his early days of career, how he failed in bagging an opportunity to become a pilot. But I still felt very sad in my heart, as this was the first time in my life I was facing such a hardship. Somewhere in my heart I had a feeling that I study well, and I never faced any failures at least in my studies, this was little hard for me to face the reality. He said you are an intelligent student, but destiny is such that you decided to research under such professor. But still seeing my sad heart, he bent forward and uttered these words - "I promise you, you will 100% get your Masters in your hand". Everyone around were amazed and surprised as we never heard a word promise from his mouth, so was I. I felt ashamed of myself, having no faith in him. But my tears have been double folded now, but not because of my concern for my Masters, but because I couldn't leave him, and told him that it was hard to be away from him. He smiled, and said, do call me now and then, then you will feel much better.
I made pranams to him, and left slowly. This time it was hard for me to leave India, but with a very heavy heart I flew to US.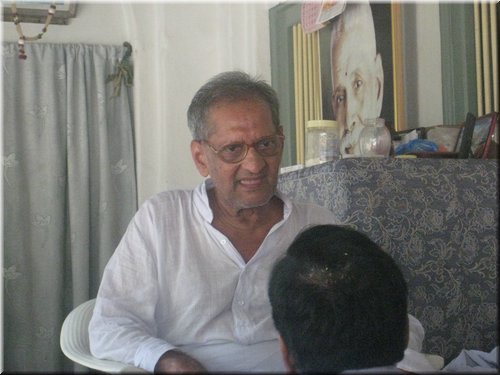 As days passed, my professor was still so stubborn, things haven't changed, but I had faith in Nanna's words. At last I decided to apply for graduation so that he might change and sign my research. But still my professor said, I am expecting a bit more work from you. I was depressed and decided to discontinue my Masters, I consulted my parents, they said do whatever your heart says as you are in a better situation to decide. I called Nanna , told him about the present situation, he said - "Just try once, if not fruitful discontinue". I agreed and obeyed his words.
I did some work, and started documenting on my research. After a week, I visited my professor, after few minutes of discussion, he said - "lets prepare for your graduation" I was awe struck at his words, I literally felt Nanna has done some magic and changed my professors mind. Within three months I graduated and bagged a job as well. Later on my parents informed Nannagaru about this, and he conveyed his happiness. I also gave him a call, he said I am very happy for you amma, you have told such a good news. I didn't know what to say, I told him that's his grace. I had tears out of his grace once I hung up.
This is all Guru's work, there is nothing impossible for a Guru, and this was a perfect example of the same in my life. The more I loved him from then, just not because he fulfilled my desire, but making me understand that he is always there for us and with us in all walks of our life.