AUM NAMO BHAGAWATE SRI RAMANAYA
AUM NAMO BHAGAWATE SRI NANNA GURAVE NAMAHA
I wish to share my experiences, my life that has been and how it changed and transformed just by Guru's grace and nothing else.
My mother is used to do lot of pujas and used to worship all Gods and Goddesses. Her prayers have influenced me a lot. I used to believe God as a supreme person who rules and exists everywhere, that was the conception I had with respect to God. Apparently I was joined in a missionary school where they give lots of importance to prayers etc. I used to love to sing songs, and cry sometimes when people talk of devotion, God, or let it be just goodness. That provoked me many times God is not bound to a religion he is a supreme being.
It was in my 5th standard that one of my close relative introduced Nannagaru to my mother and family. After few years it happened that my aunt moved to our nearby house which intensified the belief in my parents. She started attending satsang's. I remember I used to attend the satsang's, though not understanding a bit. My mother later made a visit to Arunachalam, wherein she met an ardent devotee of Nannagaru Lakshmi aunty. She happened to be staying nearby my house which we dint know until they met in Arunachalam.
That was a turning point to my mother and to me as well. She was the one who explained the details of the purpose of the life and Nannagaru's teachings. One day it happened that my mom just played a cassette and Nannagaru was explaining the purpose of our life, and what is our goal etc. I curiously asked question about Nannagaru to mom what is he trying to explain, though I dint get full answer, I was conveyed that there is something that is truth that needs to be realized and that is our purpose.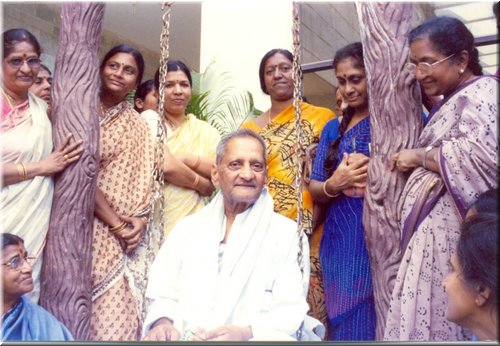 As days passed, my aunt satsangs, and the way she lead her life, influenced our family very much. Few months later I convinced myself that Nannagaru is my life and he is my path. From then every time when he visited Hyderabad we used to go to station to receive him. He used to pamper my father and said he is a Karma Yogi. There were days that I cried for him just for him to devote towards him. I don't remember but he used to bless me at least now and then.
I remember one of such days, one day we went to station to give him a sendoff to his native place. He was surrounded by huge number of devotees and devotees sat down on the floor. He was looking at one after the other devotees, and suddenly his eyes fell on me, he called me and I was asked to sit beside him. Everyone was surprised, so was I! I felt it is your grace Nanna.
Later my parents have invited Nannagaru to visit my home. I had school that day so I asked permission in the school without telling to my parents, and this was the first time I ever came back from the school half way. As I reached, in few minutes Nanna came, we warmly welcomed him, did pada puja offered prostrations. He asked how well I study; my father said she is an average student. He blessed me.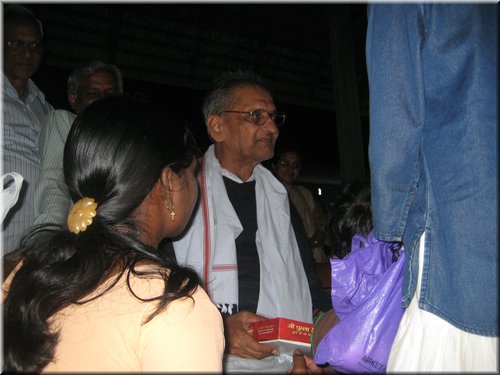 I finished my school studies successfully, as I was into my college; I was told I have to concentrate on my studies now. My parents felt that I would neglect my studies because I was so much into his bhakti and spirituality. I concentrated on my studies for a while, though I visited him every time when he came to Hyderabad.
One day as I went to the station to give him a sendoff, I just stood near the door of the train, and I stared into his eyes; he said you are good at your heart. As years passed my aunt left from Hyderabad and I was busy with my studies.
Later I joined my bachelor studies; the root of my devotion has strengthened much more. I felt all the enjoyments my friends were experiencing are just for a second, so I dint put my mind into those enjoyments. I concentrated on my studies, and I passed with flying colors. So there I had a question of what's next. Every step in my life was driven by nanna's hands, and let this shall be I thought. Later we approached him and had a proposal to do Masters in USA, or join in a job that I bagged during my bachelors. I had a dream to be abroad for a while to be independent some time, without everyone. He said you will go to USA, so I did. It was my visit to Arunachalam, indeed my second visit I think, the first visit was just with my mom and aunty but this was one with my parents along with Nannagaru and aunt.
I went to the Embassy got Visa and took a bus to Arunachalam. I told him that I got visa, he said everything good will happen to you. We four friends went for Visa, but I alone got I said. He said there is a destiny that drives people. I took rest that day, and immediate morning I rushed upstairs to bag a seat near him, and I did. I also heard that I got my results of final year, and I bagged very good marks, so I said the same to him. All good news for you he said smilingly, as I smiled.
The four days with him just flew away. On last day when I visited him, he said when I think of your name I remember Bheshma, because Greeshma goes with Bhishma. I smiled and left respectfully.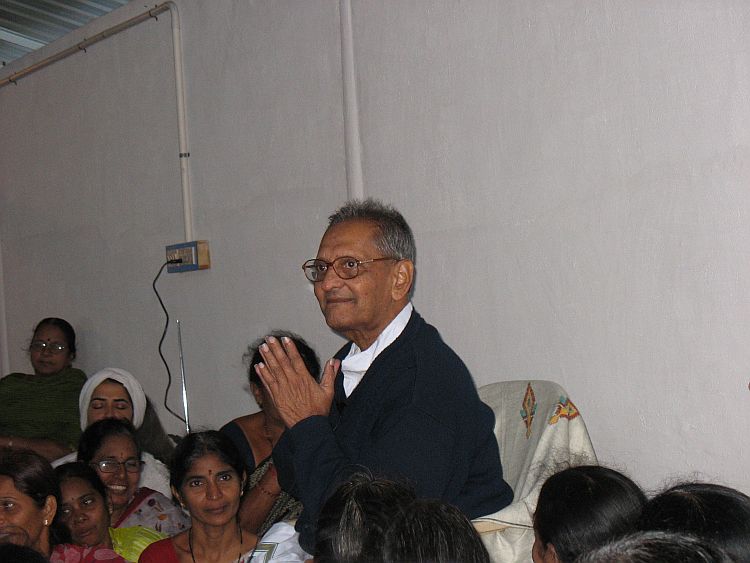 I started preparing for the journey to abroad, and in no time I left India. My actual spiritual journey started from here, (to be cont…)