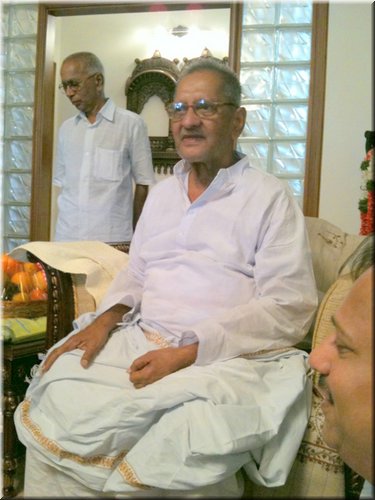 Though I have many things to share in mind, words are falling really short to express my experience. Now I understand why gurudeva always says "IT IS TO BE EXPERIENCED"(In front of him I talk to him addressing him as NANNAGARU only, but otherwise I can only address him as GURUDEVA).
Yesterday 9th of Nov 2012 was the 5th time I physically met Gurudeva since 1997 when I first saw him,at his residence at jinnuru. But it was so special because this was the first time I saw him along with my wife and that too on my first marriage anniversary. It was totally unplanned. Till now whenever I met, he spoke for not more than a minute, but today it was 15 min and these 15 min were so far the best 15 min in my 30years after birth.
I was staying at Raipur earlier and now I am shifting to Rajahmundry and on hearing this when gurudeva held my cheeks with his hands for the first time and said - "I will come to your house once you relocate to Rajahmundry". That moment of joy is enough for me to cherish my whole life. He said "You will progress in your devotional path only, don't worry", then he asked me to give my phone number and address once I relocate. And before he asked us to take leave held my cheeks again and said "I want you and your wife to be happy in life". My wife was so overwhelmed with joy when has asked her "Are you happy?" 5 times and then finally said - "If you have any problems you come to me and tell me" and then he looked at me and said "You should take care of Aswini (my wife) very well".
To be honest, no one since one year of our marriage has said the above things either to her or to me. I have been hearing discourses from about 15years now and I think my time has now come so that my gurudeva has graced me with so much, so much and so much of love. Since 6 months I have surrendered totally to him and said to myself in my heart filled with him that whatever happens to me in life (good or bad) is only his grace and now I felt only then he accepted me.
Initially I was not able to start and now I am unable to stop writing :))
"MY GURU, MY GREAT GURU, MY GREATEST GURU", 24hrs after his physical touch, I still feel his hands on my cheeks.