I knew Nannagaru from my childhood, but spiritually I got introduced to him in 1957. During the early days, he used to regularly conduct meetings in Chintaparru. In the midst of coconut trees and greenery we both used to travel by cycle and he being seated backside of my cycle. My mind used to jump in joy as we chatted, but seeing his trouble I used to feel bad. He used to say without inch of trouble you've brought me here Subba Raju garu. I always had a feeling that I am escorting God himself. As I remember, those incidents are still fresh in my mind and are joyous experiences. Every Sunday three or four of us would get together and would go to his home, he would share lot of spiritual experiences with us. He was youngest of all of us. The group that started with four has now become a source for lakhs of devotees.
In 1959, along with Nannagaru we went on a pilgrimage tour. Apart from farming and house hold activities, I dint know anything else. As I was visiting those places of piligrimage along with him, I had a feeling of suffocation of joy and as a result tears would roll down from my eyes intensely. I thought this was a boon. Once we visited Yerpedu Malayala swamy asramam, as we were looking at the ashramam, one person approached us and said swamy is calling you. He advised us to sit down on the mat. He asked us about our details, then Malayala swamy said one sentence which I still remember now – "We all think that it is enough to chant Krishna or Rama when we are old. But that's not true, if we have an impression on the raw brick it lasts forever, so also when we are young itself we should become strong in spirituality" as he said these words we were awe stuck. Next we visited Kalahasti and from there we visited Tirupati and on the way to Kanchi we visited Arunachalam. In 1957, Bhagawan showered his grace on Nannagaru in a dream; Nannagaru paid his first visit to Arunachalam. The day that we visited was Sankranthi. We enquired about accommodation in the village; they said there was no available accommodation anywhere. We had our lunch at a hotel. We had many traditional food items served, and they named it as 'Arnala vistari',
Nannagaru asked the hotel management - "What you'll gain by serving these many items?"
They replied – "As it is a festival day we don't look for any profits."
I was overwhelmed by Nannagaru's love on the humanity.
The hotel authority asked Nannagaru –
"Why did you come here for accommodation and lunch, when you get both at Ramana Ashramam?"
"Since we don't know of those details we are here" Nannagaru replied.
We went onto the road, we bought bunch of bananas as we proceeded on Jatka.
As we stepped into Ramana Ashramam, we saw Satyananda sitting by window in Bhagwan's hall (stone idol). From 14 years he was in silence. His work was to feed peacock. Seeing us he called us. They offered accommodation for us in Gentle man room which was extended to Gosala in Ashramam. Apart from Nannagaru, we happened to visit devotees who were alive in Bhagawan's time like Krishna swamy, Annamalai swamy, Murugunar. Murugunar talked a lot, he was a simple man. We happened to visit Sri Ramaswamy Pillai, the one who used to take care of cleanliness of Ashramam. We also met foreign devotees like Chadwic, Osborne. They used to sit on their knees and offer prayer (Veda parayanam) very diligently. We would go with Nannagaru for Giripradakshinam; we also made friendship with Chalam garu.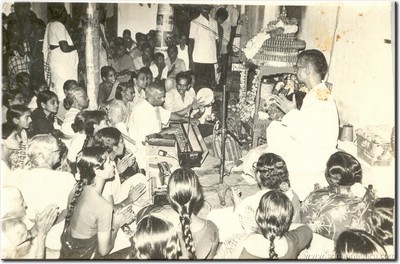 From Arunachalam we went to Rameshwaram. We had to sleep on veranda. Nannagaru once got up in midnight at 1 or 2 and sang "Endaro Mahanubhavulu andariki vandanamulu" song very sweetly for half an hour. He likes that song a lot. He continued to chant Siva, Vasudeva Narayana. I felt to be the luckiest person visualizing him. We took ocean bath in Danuskoti. On our way back we visited Madhura Meenakshi. In Aravind Ashramam (Pondicherry) we met Maataji. During this journey, he transformed spiritual energy and strength onto me.
Without any reason I love him a lot, and have immense liking for him. I don't know why, but everyday I anxiously waited for the work to be completed, so that I could meet him. As I used to work in the farm, mentally I was always connected with him. As I completed all my farm work in the evening, I rushed to be in his presence. He explained many things to us, which has hidden within Vedanta. I was able to grasp those words. My address was my home, farm and Nannagaru's home. The days passed by just like that. Those are the wonderful moments of my life which I can't forget till date.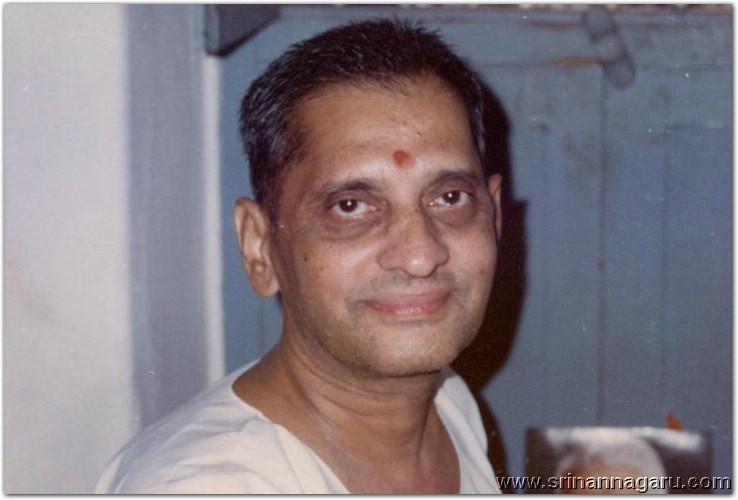 Many times I visualized in him the form of Buddha and Ramakrishna. I can't explain my relation with him in words. I would love to do his work. He was a compassionate person. He always thought welfare of others. He never thought of himself. After our friendship, Badhriraju, a PWD engineer used to visit Nannagaru in evenings at his home. He used to chat with him almost until 8 PM, and left for his last bus. I also accompanied with them happily. I never felt hunger in his presence. All hours would pass like seconds.
He thinks of us, Nannagaru used to say –
"Badhri raju garu, you are getting late, Subba raju garu can you help him to catch the bus"
He can command, but he never did so. His words were heart melting as he showered love on us. In all these years with him, he always addressed with respect for the people who were younger than him also.
I always love the work that he assigns to me. I never felt a pinch of toughness. These worked on me spiritually as well. Nannagaru spent most of his time in his Books room.
Our friendship is not a normal friendship; it is a bound less friendship. If he offered me a bitter fruit among all the fruits, without a minute of hesitation I will happily have that fruit. I wouldn't have a feeling that he offered me a bitter fruit, because I just love him for no reason. Why so? Because I knew that he is doing this for my good. And he knows all my good and bad.
With his companion I felt peace and I wanted to share with all people around me.
When I mentioned the same to him, he replied – "Subbaraju Garu! We should not reveal all these things outside; internally we need to strengthen ourselves".
Though he is younger than me, I like respecting him. From the time I met him in 1957 till date there is no change in our friendship. It's the same day as it used to be. Though I am not able to have his darshan often because of increased devotees I didn't feel obsessed as I always felt his mental presence.
Having born as human is strength of purity, having born in his village is boon of previous life, and by travelling with him my life attained fulfilment.
In simple words it is not possible to repay his debt. Offering our ego at his feet is the real way to pay tribute to him. (guru dakshina)