My real spiritual journey and devotion intensified from here.
I was homesick; felt there was nothing here but just a mechanical life. I felt I was all alone and I cried many days for being apart from my parents and dear ones. There was a situation where I felt I should leave USA and go to India, but some force just stopped me from doing so.
I also felt I was far away from Nanna and I cried a lot for him too. But the grace I received was unseen and unheard, that cannot be expressed through words, though I didn't notice it then.
I slowly started listening to his speeches from his website. Though I was amongst many people I still felt alone and something was amiss. The more I listened to his speeches, the more love and respect intensified for him. I felt some unknown bond is slowly strengthening between us, as his work is unseen and unheard. It is the silent work of GURU.
Though I was physically away from him, often I used to get short dreams where Nanna used to embrace me and shower his love. In one such dream I remember where Nannagaru said, "Please, give way to her. she is the closest devotee to my heart." Whenever I felt longing for him, he used to come immediately in a dream and bless me.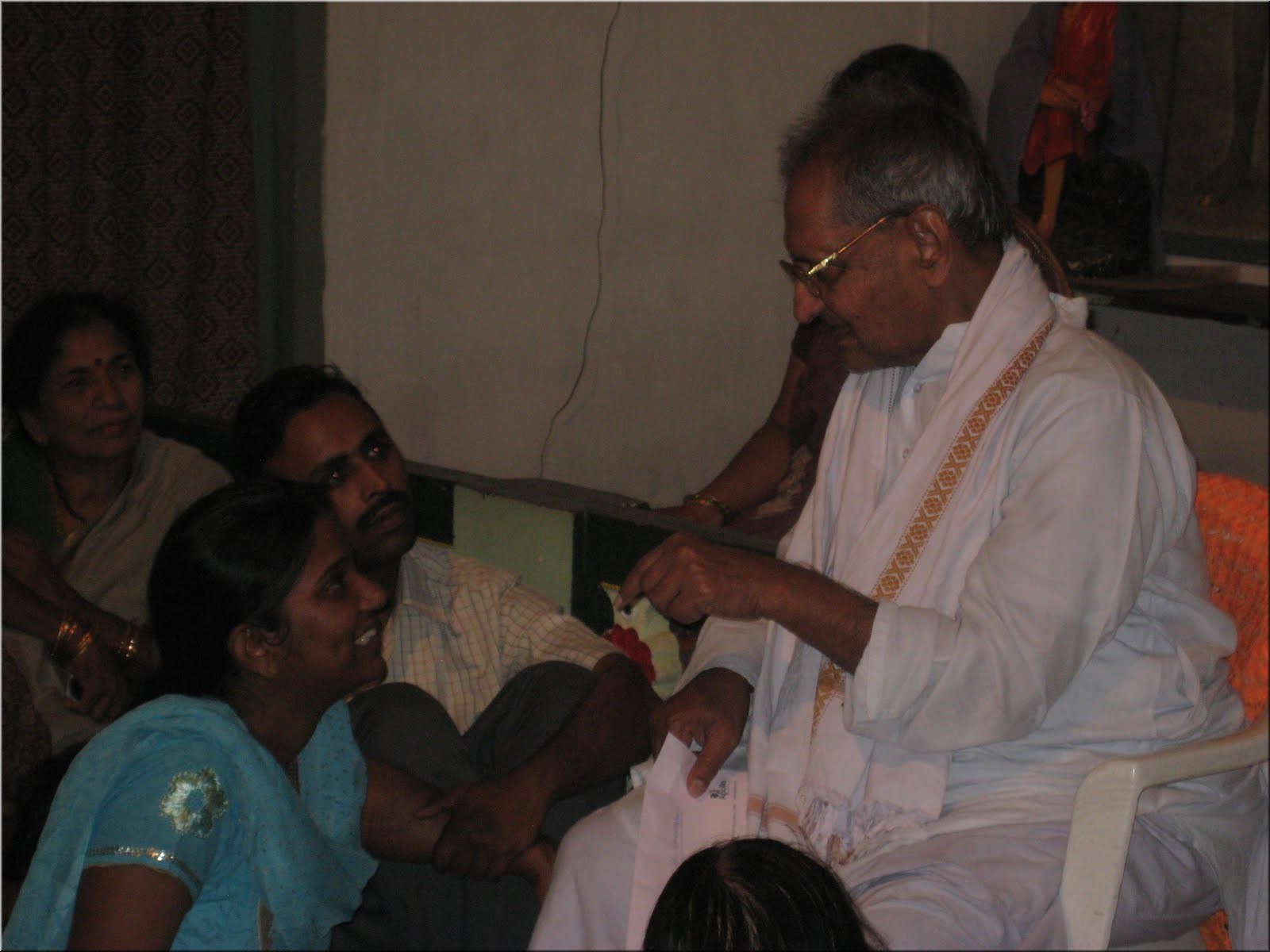 As a year passed I paid a visit to India, which told me how much did I actually miss it.
It was in 2008, July-August. It was my first visit to India after completion of one year at USA. Everything was coincidental and was fortunate that I had an opportunity to visit Nannagaru on Guru Pournami (On this day, all spiritual aspirants and devotees perform a 'puja' of their respective spiritual preceptor or 'Gurudevs'.). I felt it was such a blessing to visit Guru Nanna on this auspicious day, after so long time and everything was perfect on that day.
At last we reached to the place where Guru Pournami celebrations were taking place. The moment of joy in my heart after having a glance of Guru can't be expressed or narrated. Formalities, rituals were being performed; it was the time where Guru is giving darshan to his devotees. I was in a big queue waiting for a glimpse of my guru. As I had to wait for long, I was chanting his name and was in satsang with my mother and my respected aunt talking about guru's grace, the discussion was endless because such is the grace of the guru - Infinite. Within no time we were few foot steps away to get glance of Guru.
The moment arrived, Nannagaru just looked into my eyes for few seconds, asked when did I come from USA? He asked how was I doing. I said all is well with your grace my father. I could see through his questions he was showering blessings and grace. I offered him chocolates as dakshina (offerings given with respect), he said did you get it from abroad? I said yes Nannagaru. He said very good.
He gave me some fruits and had to leave since there was big queue behind waiting for his darshan. Later on he gave a spiritual discourse.
At last we dispersed.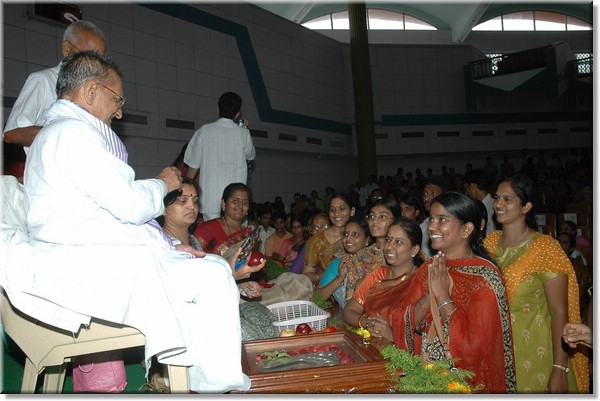 Fortunately Nannagaru had plans to stay for 4 days in my city. I felt happy that I had some time to spend with Nannagaru, it was again his grace and will. Everyday morning, at 6:00 AM I used to go to the place where Nannagaru resides. Everyday he used to stay in silence or address few words of wisdom. As it has been long time since it happened, I couldn't remember the words that he spoke , more than his words his silence was as pure as gold, which I can experience till date and I am sure I would cherish that peace & bliss for life long. The four days passed within no time.
It was the day that Nannagaru had to leave to his native place. He said where there is a meeting there will be parting. I felt this parting time is hard to experience. He usually comes to the railway station 1 hour before so that he could settle down and look at the devotees. He arrived, we all walked along with him to the platform where the train departs from. I felt I was walking with god. Undoubtedly walking with Guru is walking with god.
He slowly looked at everyone and it was my turn, he smiled and blessed. With a benevolent smile he said to an aunt nearby, "She is my spiritual daughter, amma". I didn't had any words..I was just in silence and so was everyone... I conveyed my reply internally (this might not be completely what I thought at that moment, but summarizing the thoughts I've had and to the best of what I remember)
"Nannagaru, though we all are not well-deserved, in some way or the other you are showering your grace on us. This might not be only on me but all of us this is your grace. Though our minds are egoistic in nature, you elevate us to the level where we deserve your grace and then you shower it on us with eternal love. I apologize for my fickle mindedness, when it tries to understand, because it is beyond our understanding"
He might have said those words that I am his spiritual daughter, addressing to me, but Friends truly we all are his spiritual daughters and sons, he has just chosen me to convey the message, everyone is considered as a child in front of Guru. We all are in his jaws, let him chew our mind and swallow the saliva until we reach to the mind-less state. He has been travelling all the places across South India , some parts of North India, and as well as abroad. If we could dig deep into these actions and inquire the intention of these long sermons, we then know that these are desire less actions, "out of compassion and out of grace", his speeches and efforts are to make us to reach to the ultimate state of bliss. The only way to pay off the debt to our Guru is by understanding and following his words.