After the trip to Jinnuru, I was actively campaigning for a ticket for the Vastrabhishekam Seva of Lord Venkateshwara in Tirumala. This is the most sought after seva and was booked till 2100 AD.
Only a miracle could vouchsafe tickets for me from Chairman's quota. I knew that everything is possible by Sri Nannagaru's Will alone. Hence during the trip to Jinnur I showed Him the photo of Lord Venkateshwara. He looked at it and smiled. I knew he understood my desire. Somehow I got the confidence that I will be getting the seva.
And sure enough a few weeks later I got a call from the Chairman's office that my application had been accepted and myself and my wife were having tickets for the Vastrabahishekam of Lord venkateshwara on Friday morning in Tirumala.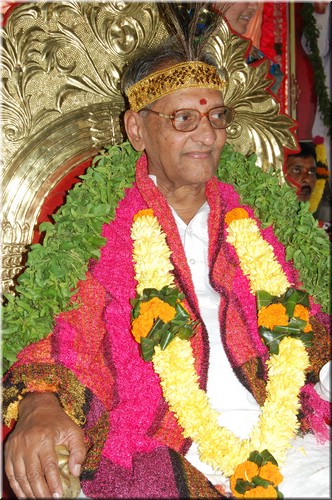 With bated breath I entered the sanctum that Friday morning and sat near the Lord. The Abhishekam started.
The Face of Lord Venkateshwara , the Darshan which was a fruit of a million years of sadhana came before my eyes as He was bathed with scented oils and sandal paste.
But surprisingly I did not behold a face that was unknown to me. I was surprised to note that the Face resembled so much of my Guru, Sri Nannagaru. It was as if he were standing there and giving me Abhayam.
It is said that one who sees the face of Lord Venkateshwara sees the deity he worships in Him.
It can be Buddha, the Divine Mother, Vishnu or Shiva or Karthikeya.
I was surprised and charmed to see Sri Nannagaru's face in it.
He is my all...He is my everything....I understood.
Every devoteee sees the Divine Form he worships in Lord Venkateshwara.
I saw my Guru and was bathed in Peace.
I also noted that the awe of Subramanaya Darshan welled up in my heart when I saw the Lord.
I mentioned this to Sri Nannagaru in a later visit.
He smiled and said ' Vishnu + Subramanyeshwara = Venkateshwara.'
---
Dr.Mithin Aachi is an orthopaedic surgeon by profession. He is a star-gazer, painter, and writer. He is an amalgamation of all kinds of arts and activities. He is a happy go lucky person, who just sees love in everything. From the very tender age, he had an quest to know the truth. He admires and worships Rama Krishna and believes Nannagaru is an avatar of Rama Krishna and worships him in this form. He is a simple person who is an embodiment of love.