Having decided to spend some time with Sri Nannagaru I took the early morning flight from Hyderabad to Chennai. On landing I started to Arunachala in the taxi. As usual I kept looking for the Hill to come up in the horizon and as it did I felt the rush of joy in my heart.
I called Gopika and confirmed Sri Nannagaru'S timings in the ashram.
I checked into the resort nearby and went to Sri Nannagaru ashram in the hope of his darshan. He opened the doors of is room at 2.00 pm and on seeing me in the eager crowd asked me to come and sit down with him.
He asked me when I came and where I was staying.
On getting my replies he said ' Isnt it expensive to stay in the resort?'
I kept quiet.
Devotees behind me told Sri Nannagaru that I could stay in the ashram if I liked as a room was available.
Sri Nannagaru asked me whether I liked staying in the resort or the ashram.
I said 'It is your wish Sri Nannagaru'
Sri Nannagaru nodded and said 'Ok then. Its decided. You come and saty in the ashram from tomorrow as you have already paid for a day in the resort.'
He paused.
"Mithin said 'Your wish Sri Nanngaru'. That is Sharanagathi' He smiled and looked at me.
He then asked Gopika and Dr Karuna to accompany me to Sri Ramanaahram and show it to me and then bring me to Andhra Ashram.
They agreed.
Guru's Child also had come and she promised to meet us in Andhra Ashram when we came back from Ramanashram.
We all then went to Sri Ramanashram where I was stunned to see the photo of Bhagawan in the old meditation hall.
It seemed so alive and full of joy on seeing me.
I sat there and meditated for a while.
After this we went to Andhra Ashram where Sri Nannagaru sat for sometime amidst devotees in the background of cool atmosphere and peacock calls.
From there Gopika, Dr Karuna , Guru's Child and myself went for a quick car girivallam and retuned for early supper in Siva Sannidhi Guest house where Sri Nannagaru gave a small talk which I was not able to hear as I was a little away.
As he ate his supper I went up to the terrace and saw Arunachala for some time.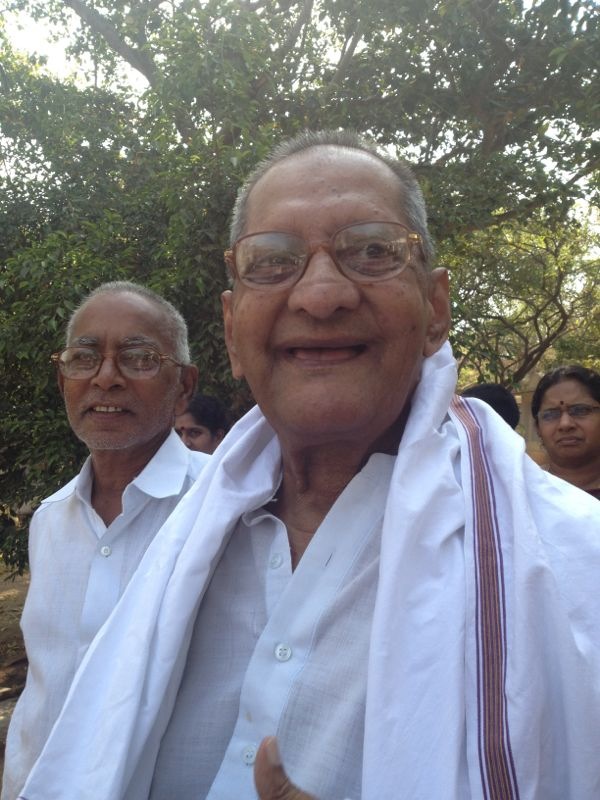 We all then returned to Sri Nannagaru ashram where the Guru sat in the front yard open space with his feet stretched. Devotees began to lightly massage his feet.
Suddenly there was a heavenly body moving at slow speed in space over the ashram.
We all looked at it and asked Sri Nannagaru to see it.
'It is the International Space Station, Sri Nannagaru' I said.
He looked at like a child and expressed his happiness at the way technology had improved. He made in depth enquiries about it and I showed him the photo of it on mobile google.
After seeing the photo he was quite for sometime and the suddenly a graver voice, more subtle than his usual one spoke from the depths of his being
'NOTHING EVER HAPPENED'
Gopika looked at me excitedly wondering whether I caught the phrase.
I smiled.
I looked at Sri Nannagaru's feet and decided to massage them.
But no sooner did I touch them than the Guru jerked his legs away from me. His eyes were closed.
I thought that 'He is not taking personal service from me'
Then suddenly I saw the devotees slow Pradakshina of him as he sat.
I decided to do the same and started to slip out.
'Mithin!' His voice boomed stunning me.
I rushed back hastily as he continued ' Mithin come tomorrow and check into the room of the ashram.'
I nodded.
He got up and before I could even start my circumbulation of him he went back to his room.
I went back to my resort and joined Sri Nannagaru devotees the next day early morning for Giripradakshina at 1 o clock in the morning.
Guru's Child was amongst them. After having completed about 10 km of the 14 km circuit, the mind in me protested and I felt what was the use of going around a Mountain when the living Guru was sleeping in the ashram?
I decided to discontinue my Girivallam and told this to Guru's Child.
Even though she asked me to persevere I for the first time in my life did not follow her advice and took an auto to Ramanashram
Once there I circumbulated the samadhi of Bhagawan and went and sat in the Old meditation hall with the living picture of Bhagawan.
As I gazed at the Supreme Beauty of the Bhagawan full of compassion I felt very happy.
Next I returned to my resort and then checked out and came to Sri Nannagaru ashram.
Sri Nannagaru was sittting with the devotees.
Someone had asked him what to do when there were differences of opinion in workplace and when these differences eventually lead to unrest and enmity. How to avoid enmity and be happy with all?
Sri Nannagaru replied that ' There cannot be a person who doesnt have an enemy. If you dont have enemies then it is something wierd. Nobody can please everybody. When there are arguments it is better to settle the differences amicably and if not possible then to go one's way without unnecessary confrontation.'
Then we had our breakfast and dispersed for sometime.
Sri Nannagaru again met us in his room after sometime from where he went to the neighbor's house on invitation and sat there for sometime and gave spiritual tidbits.
He then blessed the male head of the family and said 'This is your last birth.'
The man smiled and said 'It is all in your hands.'
Sri Nannagaru smiled and came out.
Sri Nannagaru next went and sat in his room in the ashram where we followed him.
We chatted about some mundane matters bordering on spirituality.
He asked me about what the health problem of Sonia Gandhi could be? I answered to the best of my knowledge.
He also began to speak to some other devotees sitting around him. I took this as an oppurtunity and started to videograph him in my phone. I concentrated especially on his hands and feet and the movement of his palms.
These are direct movements of Divine Conciousness I felt.
Later he asked us to go and sit in the meditation hall of Sri Nannagaru ashram.
There we all sat waiting for him.
It was when I was waiting near his chair that hearing some devoteees sing in hope of meeting Sri Nannagaru I decided to sing him a song.
'Guru Devo Daya Karo Deena Jane' by Devendranath Mujumdar
I asked Gopika's help in asking him whether I could sing.
When he came, Gopika asked and Sri Nannagaru said ' Yes let him sing.'
I started.
All my life I wanted to sing to Sri Ramakrishna this very song.
I felt very happy that this desire of mine was pleased.
I sang...I dont know whether in tune or out of it...I sang.
He looked at me with a smile and a mudra of blessing.
'Guru Devo Daya Karo Deena Jane' I cried.
He nooded slightly.
At the end of the song he looked at me and said
'You sang very well. But your pitch was uniform. You should modulate your pitch.'
And the next moment Sri Nannagaru sang!!!!!!!!!!!!!!!!!!!!!!!!!!!!!!!!!!!!!!!!!!!
He sang ' O God Beautiful' of Guru Nanak first.
Then he looked at me and said ' Pitch modulation in tune brings out the best music'
Saying this he sang a song of Ghantasala!!!!!!!!!!!
'Jagame Maya, Brathuke maya...vedaalalo , You should increase your pitch here, saaram inthe naya!' ( He sang this song which means ' This world is maya, this life is maya, the vedas essence is such the vedas essence is such!' while explaining the modulations of pitch!)
The entire hall burst out laughing and enjoyed the bliss to its hilt!
Sri Nannagaru smiled and said 'Mithin you are a singer, philosopher, writer, painter, doctor, poet! God has given you everything. Mithin is All in All. Mithin is everything. This is karma marga.Everything is Karma, Nothing is Jnana.'
I said 'There is no such thing as Mithin. Mithin is false. What exists is Sri Nannagaru. Sri Nannagaru is everything.'
He smiled. We dispersed that day excitedly discussing how Sri Nannagaru sang.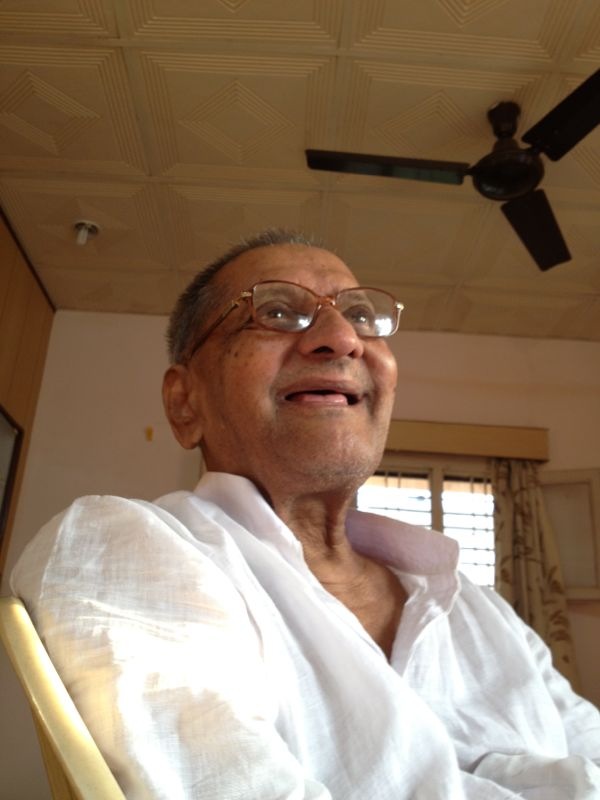 In the evening I was expecting my friend from Chidambaram who had called me up.
I told him that we have accomadation and he could come and visit me in Tiruvannamalai. It was his first trip and it was full moon night.
I waited for him in Ramanashram and when he arrived he was stunned to see the number of people walking around Arunachala.
I told him that this is Giripradakshina and is very sacred especially so on full moon nights and hence lakhs of people visit this place. I rememebered how I was not able to complete the girivallam that day morning and wondered whether I should go and complete it.
My friend agreed and taking Deepu with us who was th son of Nagalakshmi aunty a very close associate of Sri Nannagaru we went for the Mountain pradakshina.
All through the while, my friend who is devotee of Shiva but craves for spiritual experience rather than blind belief said ' What is the point of going around this Mountain? Unless I know why should I do it?'
Knowing his plain heart very well I said ' Dont think that you are going around God or a sacred hill. Instead think that you are going around a beautiful mountain endowed with nature's beauty.'
We trudged along my feet aching and complaining but by supreme force of willpower I completed the Girivallam by 4.30 in the morning.
It was five by the time we slept and missed meeting Sri Nannagaru in the morning darshan at 6 o clock.
We went to the 10 o clock darshan whence I introduced my friend to Sri Nannagaru. The Guru looked at him and smiled.
We later went to Rmanashram and then my friend took leave.
I went to the afternoon darshan of Sri Nannagaru where his talk bordered on Ajata Vada.
I asked him whether Ajata Vadam can be discussed with a point view of Intellectual Conviction.
He shook his head.
He said ' Ajatam Vadam is the Truth. But it is a state which comes when the mind is dead. It is not an object for the mind to grasp. These are all tricks of the Mind. Ajata Vadam can only be known whence the Mind dies and this is achieved by Grace alone. It is the Supreme Reality which the Jnanis realize.'
I nodded.
Then we changed the venue from his room to the old meditation hall where Sri Nannagaru asked me how I was planning to go back.
I told him about my night travel by taxi to Chennai airport and how I had booked an early morning flight.
Sri Nannagaru chided me saying ' You have not planned at all! Your journey is unhappy and stressful. Why did you do such?'
I replied ' I wanted to spend as much time as possible with you Sri Nannagaru and hence even at personal inconvinience I booked my return travel such.'
'Oh' he said and was silent.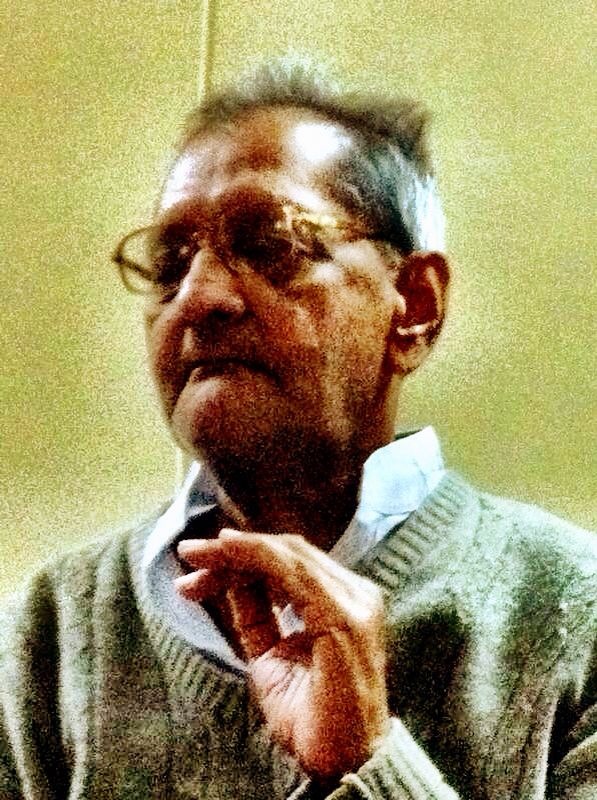 Later in the evening I came to know that Sri Nannagaru's devotees from France had sustained an injury and I rushed to the hospital and gave her some comfort and noting the seriousness of the injury asked her to be shifted to Vellore. I apprised a concerned Sri Nannagaru over the phone that she was out of danger but needed expert observation for a few days. He agreed and asked her to be shifted to Vellore.
I came back and sat with Sri Nannagaru.
I told him what my friend had said when we were going around the Mountain.
He said ' You should have said Faith is blind. Even if you dont believe that Arunachala is Supreme atleast you can enjoy the nature with me and spend some good time.'
I nodded.
Sri Nannagaru leaned forward and said ' Shall I tell you a secret? Even if your friend believes or not, the punya of Girivallam will be his.'
I nodded and said 'True sir. It is becoz he did girivallam he had the oppurtunity to have darshan of Sri Nannagaru.'
The devotees around smiled in joy. Sri Nannagaru smiled and was Silent.
On a similar note on the first day Sri Nannagaru had asked me ' What piligrimage centres have you visited till now.'
I had said 'Belur Math, Kolkata, Dakshineshwar, Puri, Kamarpukur, Jayrambhati,'
Sri Nannagaru was smiling
'Did you visit Parthsarathy temple Tripluicane? and Rameshwaram?'
I nodded and said yes.
The I said
"All piligrimage centres are in your feet Sri Nannagaru.'
'What is that?' he asked craning his neck.
Gopika told him.
He smiled and had looked at me.
Now in the eve of my departure he was Silent and calm.
He said ' Eat your dinner and leave whence the time comes.'
I nodded and saluted him.
After we dispersed I went along with Guru's Child and Ravishankar garu to Arunachala temple.
After a beautiful darshan there I came out of the temple waiting for the others to come out whence I saw hundreds of devotees exiting the temple.
As I looked at them I clearly perceived that they were just bodies with intricate tendenciers and maya around them.
It was a surreal few mnutes whence the eyes questioned the illusion of reality and I felt the Source for some moments while watching the illusion of forms.
Later I bowed down to the room in which Sri Nannagaru was sleeping
---
Dr.Mithin Aachi is an orthopaedic surgeon by profession. He is a star-gazer, painter, and writer. He is an amalgamation of all kinds of arts and activities. He is a happy go lucky person, who just sees love in everything. From the very tender age, he had an quest to know the truth. He admires and worships Rama Krishna and believes Nannagaru is an avatar of Rama Krishna and worships him in this form. He is a simple person who is an embodiment of love.