EVERY MOMENT WITH YOU IS MOKSHAM SRI NANNAGARU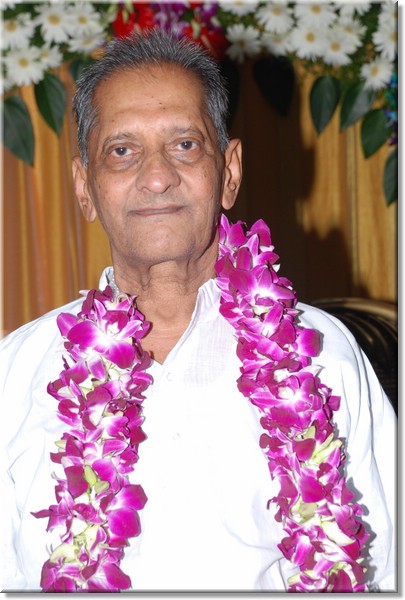 Sri Nannagaru came to Hyderabad for a short trip on Sept 21 till 29th. It was mainly for the occasion of his birthday which fell on Sept 23rd.
I was not able to go to the station and hence I landed up in SR Nagar flat at 8 in the morning for his darshan. No sooner did I get out of the lift to enter the hall which faces his room than I saw him.
He was sitting inside his room, in Silence looking at the hall into which I was entering. He had finished his morning discourse in the hall and was sitting now inside his room facing the hall, the devotees in it and the door through which I entered.
No sooner did I see him than I felt a jump in my heart and he raised his hand in a mudra of blessing. He looked like a deity in a sanctum sanctorum giving darshan.
No sooner did I see him and mentally gave my pranams to him for his darshan, than he got up and closed the door.
I waited till he finished his morning bath.
Once he opened his door, I was ushered into his presence.
Sri Nannagaru gave me his book 'Hithopadesam' and smiled at me. I sat down at his feet. My exuberance of emotion had made me post a lot of messages where I equated Sri Nannagaru to God etc.
He looked at me smilingly and said ' Doctorgaru when you compare me to other Gods, Goddesses, deities, saints etc the followers of those deities will be hurt and react. There will be a lot of complaints. What use are miracles to us? Whatever Love you have for me is between us. Internalize your love for me. Control its outer expression so that it might not hurt the feelings of others.'
I said 'Ok, Nannagaru. Whatever you say.'
He smiled and spoke to me about other general things.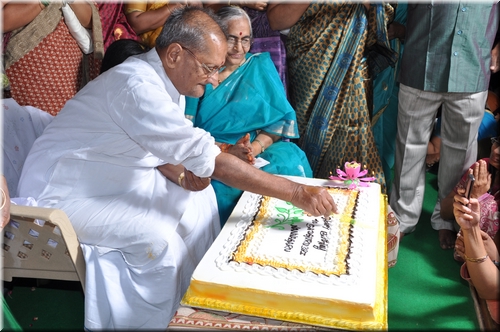 The next day I met him in the morning satsangh where I asked him ' How to Live in the Now, Sri Nannagaru?'
He replied 'Forgiving is easy but Forgetting is difficult. One who can forget the past and not build any castles in the air thinking about the future, that one lives in the Now, the present moment. The Future will unfold according to God's Will. Realization will come someday but one should not have expectation of it.'
I nodded.
I said 'Every moment with you is Moksham, Sri Nannagaru.'
He paused and said 'If you take the perspective of living in the Now.'
I smiled.
The next day was his birthday and it was celebrated in a big function hall in Hyderabad.
I usually would climb the stage and reach him fast for darshan. But that day I stood in line. Waiting for my turn. My inner feeling was that every devotee of Sri Nannagaru is a great seed with a banyan tree in it and a great love for him. Greater bhakthi than I had. So I had no right to break line and go for his darshan on the stage.
So I stood in line.
When I came to him, he looked at me, paused and said' You have come correctly in a disciplined way. This is the correct way to come for darshan.'
Later in the afternnon he gave his discourse where he talked about God being the Antaryami. I decided to follow this teaching of Sri Nannagaru.
Everyone meditates on Lord Rama's feet.
But Goddess Sita meditated on His Face.
His face remained calm when it was announced that he would be made king one day and was asked to go to exile in forest the next day.
His was perfect detachment.
This is the requirement and manifestation of Peace and Jnana.
Hence Sita meditated on His Face.' He said.
I began to imagine Sri Nannagaru in my heart as Antaryami. Being thus like that he was with me forever. There was no third party, no hurt.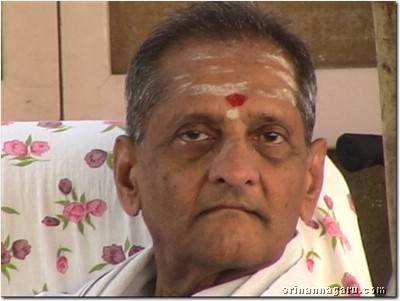 I started meditating on him like that. My visits to him began to drop in frequency and intensity as I felt that he was always with me and devotees who loved him more are enjoying his presence in SR Nagar.
In my various other visits in this trip he said once 'Ku mens bad. Mar means to destroy. One who destroys the bad in you is Kumaran, Subramanaya Swamy. He is the Eternal Youth.'
Another day he said ' Bhagawan didnt know his body. He would hold his head and feel it to see whether he really had his head. He was always in Super Consciousness. This is the state to achieve.'
'Lord Venkateshwara Swamy is a repositroy of all deities. He is Devi, Shiva, Vishnu etc. The beauty of Child Hanuman whom I once saw in a dream is Indescribable! That is why perhaps His main episode in Ramayana is called Sundarakanda.'
The last day in the railway station he got out from the car, held me and walked into the station. He saw an oncoming train and said 'Who is he? It looks like he is not the train we should board.'
I was surprised at his words and a subtle eye in me opened and I realised that Sri Nannagaru saw everything as Alive, everything as Consciousness!
I saluted him for that as the train slowly left the station.
---
Dr.Mithin Aachi is an orthopaedic surgeon by profession. He is a star-gazer, painter, and writer. He is an amalgamation of all kinds of arts and activities. He is a happy go lucky person, who just sees love in everything. From the very tender age, he had an quest to know the truth. He admires and worships Rama Krishna and believes Nannagaru is an avatar of Rama Krishna and worships him in this form. He is a simple person who is an embodiment of love.