I heard about Sri Nannagaru and met him for the first time, when I went to Bheemavaram, to visit an NGO working for mentally challenged children. Mr. Raju, who is the husband of Smt. Aruna, the owner of the NGO, took me to Jinnuru, along with Sri Ranga Babu, who also used to work for the same NGO, to have the blessings of Sri Jinnuru Nannagaru. When I entered the house of Sri Nannagaru, there were already around 50-60 devotees waiting for his darshan. Sri Nannagaru and another devotee, who came from Visakhapatnam, were inside a room, discussing about some book to be published. While the discussions were going on, Sri Nannagaru came thrice outside and every time he came out, he singled out me from the whole group and asked me to sit on a sofa. Feeling a bit hesitant and also inconvenient to have that kind of attention, I did not move from the floor. Afterwards, Sri Nannagaru came out and sat on the same sofa for interacting with the waiting devotees.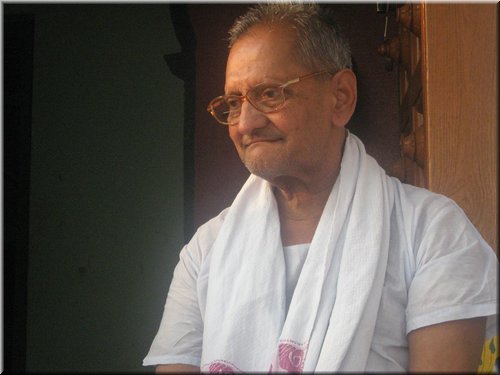 A lady started narrating her agony and pain in her family and while listening to her, all of a sudden, Sri Nannagaru turned towards me and again asked me to come and sit on the sofa next to him. I did not move, but he insisted and I had no choice but to concede to his command and instructions. I was almost sat on a corner in the sofa, as I was nervous to occupy the same sofa with a Saintly Noble Soul. But, he made me to sit properly and started asking one question after another, which have no relevance, either to my visit or to elicit the methodology I have been following in my sadhana. He asked me just a couple of questions relevant and all others are like how far Haridwar is from Delhi, how many Ramana temples are there in Delhi, who is the most popular Guru in Delhi, etc., etc. All along these questions, I only thought that while testing through these irrelevant questions, he is blessing me. And, then said, you came all the way from Delhi to see me. I said, no Nannagaru, I came to Bheemavaram on some personal work and having heard of you, I came to pay my respects to you and have your kind blessings. He spoke to me like this for almost 45 minutes, keeping aside all others. Then he got up saying that he will present me with a book on Bhagawan Sri Ramana Maharshi. He searched in one room for a few minutes and could not find the book that he wanted to present me and went into another room and again searched and found a different title / book. Saying that this book also equally good, he gave it to me and then he again went into the first room, and brought the one which he wanted to present first, and saying that I wanted to give you one, but you got two now. See, how Guru guides. He blessed me with these two Telugu books on Ramana -- Nee Sahaja Sthithilone Vundu and another one (forgot title) -- and then told me to read and spread the contents to all. He then allowed me to touch his sacred feet and put his abhaya hasta on my head as a blessing and sign of assurance. I was touched and moved by his love, kind and benign blessings. I was in fully in tears and could not hold myself. My friends helped me to get up and move out. The moment I moved out of his presence, he got up from the sofa and went into his room.
I do not know and, in fact, I have no words to express my feelings. He is very kind and compassionate to me. I can only say, Naanngaaru, kindly accept my Koti Koti Pranams. Bless me and keep me always in your kind and graceful glances. That is all.