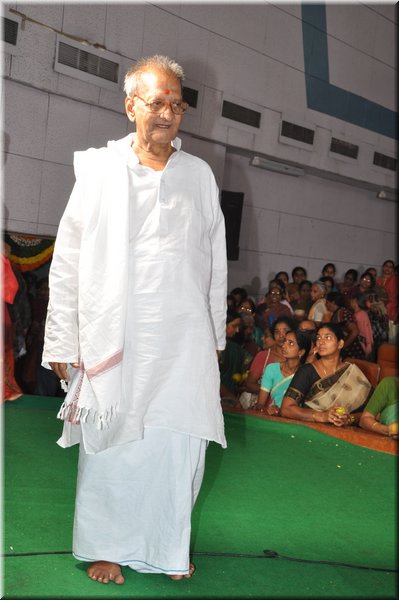 Bhagawan Sri Ramana Maharshi is embodiment of "Advaita" (Monoism). He is living embodiment of the principles of Adi Sankaracharya.
Sri Ramana attained Self-Realisation without any Sadhana (Spiritual practice or effort) or Upadesham (Preaching). At that time he did not possess any basic knowledge nor did he know one single word Brahman (the Supreme). He is remaining in that blissful state for more than half a century in the living form, preached to the seekers.
Sri Ramana did not give initiation to anybody. But after his leaving the body, he blessed few great souls by giving vision (dharshan). He awakened the spiritual power which rested in the sleeping state of these great and blessed souls, Sri Jinnuru Nannagaru is one.
From nearly half a century Sri Nannagaru by his compassionate nature in his special manner is giving discourses mainly based on Sri Ramanas teachings, subtle gross and the quality of goodness. He uses very simple language and does not use any words or sentences from any Shatras (Basic knowledge). He refers and teaches from the situations in our daily life, conduct and behavior pattern for our spiritual progress which directly enter into our heart. He proves that for spiritual progress Shastra knowledge is not the only requirement. But this does not mean that Sri Jinnuru Nannagaru does not possess Shastra knowledge which is clearly revealed in this book.
"Adi Sankara Tatva Bhodha" and "Viveka Chudamani" are the two famous books on which questions were asked by a seeker and this book is a collection and union of answers and nearly in all answers Sri Ramana Maharshi is seen. This is the specialty of this book.
It was the desire of Sri Jinnuru Nannagaru that I should write the introduction note for this book. I humbly accept the honor and goodness extended to me and express my whole hearted gratitude for giving me this opportunity