This incident occurred a few years ago.
Addressing a certain devotee, who lost his son recently, Nannagaru said, "Kausalya did not experience peace either in her mother's place or in her in-law's place. After a long wait, when Rama was born, it was a glorious moment for all,but it was much more for Kausalya. She was happy and peaceful after Rama was born. While Rama was being sent to exile, Kausalya developed differences and negative feelings towards Kaikeyi".
When Rama was exiled for 14 years, and was about to begin his journey, he approached Kausalya and addressed all aspects of life. He spoke thus to his mother, "In this world there is a Dharma that states that 'until children are independent it is the parent's duty to provide and care for them. Once the children grow up and become independent, it is their duty to take care of the parents by providing necessities and required care. In my life, when the time to take care of parents has arrived, I am leaving, without fulfilling my duties.'
Nannagaru narrated Rama's words to Kausalya, "We can store money, gold, assets, and whatever we earn materialistically, I shall tell one sentence; store these words in your heart in the same way.
"Narayanam Parabrahmam Sarvakaarana Kaaranam" and repeated multiple times.
"Narayanam Parabrahmam Sarvakarana Karanam"
and repeated multiple times.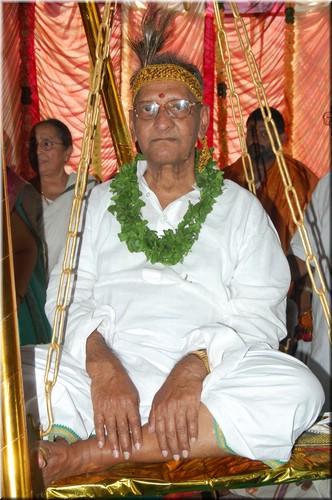 Narayana here, does not imply the deity in the temple, Narayana means parabrahmam, the one that resides in your and also everyone's heart as pure consciousness. Sarva kaarana Kaaranam is understood thus. In this life, many incidents happen. Everyone has their own destiny and we find suitable reasons for those. But there is one unseen reason, which Narayana alone knows. There occurs no incident without his knowledge. We see reasons but these are limited to our little minds; reason being our identification with our body. But, always, his final message is that there exists consciousness alone.
Even if we understand or do not, there is a reason behind all the reasons. And that reason is Narayana. We may make mistakes but Narayana will not make any. So let us respect and accept his will. We cannot point out some incident in life and question why has this happened this way and so on. By accepting his reason, by accepting his will, by accepting his decision alone, we can gain peace. We can continue to live in world and be aware of the source of all the reasons, at the same time.
Store these words carefully in your heart, like you store your valuables, gold and money in the bank"
Thus, the devotee stored carefully these very words in her heart. She/He rejoices about how Guru takes our lives into his custody, gives solace and tranquility, in numerous ways, even in the midst of worst of adverse situations.