I heard the name of Sri Nannagaru first time on Oct 4th 1991 through a friend. I heard of many swamiji's, but the name of Nannagaru felt very special to me. After 1 month, I heard of Bhagawan's life history. I liked the Arunachala siva song most. The first book I read of is "Sri Nannavu vacha". For the person like me who had perceptions as, upon my wishes fulfilled, I would climb steps of tirupati or break the coconut, had left me awestuck with the words in this book which said – "Are you trading with God?" I felt shy of myself. Also the words - "If you are not able to understand my subject it is the fault of mine and not fault of yours" were just different like his name. I was not daring from childhood but the words which said "What will happen, will happen, but what will happen will not happen" have removed my fear and rejuvenated in me with courage.
I knew that Nannagaru was going to visit my home on Jan 9th 1992. Early in the morning, I cleaned my home very neatly and decorated with lights on the way where Sri Nannagaru is expected to come. At evening 4 PM Sri Nannagaru has arrived, Shyamala aunty has introduced me to Sri Nannagaru. I spent 3 days with my Sri Nannagaru. I don't know anything about the subject. He used to talk to me as a well wisher. All the three days just flew away, I had zeal to spend every second with him, and to sit along with him, which was unknown happiness, but one thing that I understood is I haven't had this feeling any time before. The moment he left from my home I had a longing for him, and felt something was missed. I wanted to share these feelings with someone else otherwise I used to feel like I am lost, so immediately I started writing in a book naming it as 'Guru devobava'. Every second that I spent with my father I stored that memory preciously in my heart.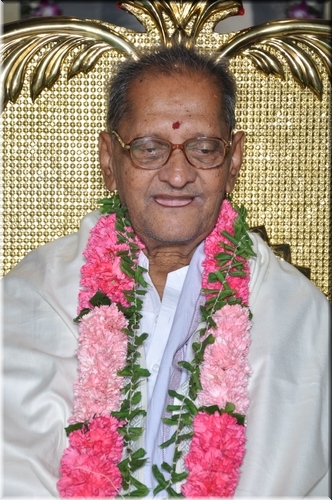 Apart from speeches of Sri Nannagaru, the experiences that he has given to me at home are much more valuable. The thing that which is present yesterday and absent today is not true, the thing which exists yesterday, today and tomorrow is itself truth. Yes, I am living this truth which is love of Sri Nannagaru. The love that he showered for first time is the same love that he showers till date; there is no difference in his love. The love which exists same as yesterday, today and tomorrow is Nannagaru's love, that love is precious (apurvam)
Slowly Nannagaru has become the main family member in my life. I have my father, with my father's words (upadesam) I felt I can achieve anything that is impossible. Everyday I used to sit before Nannagaru's photo and used to share all my sad and happy feelings with him, as I continued to see him, I visualized my father rather than a photo. He vanished all my sorrow with his immense teachings. I always used to discuss my problems wit him, for every problem I used to get a unique solution from him. But once I had a feeling whether all this is true? But on 7/8/96 when nannagaru came to vizag
He said – " I am receiving your words"
By saying so he removed all my doubts.
Without necessary of reading Vedas, Upanishadasa, Bhagawad Gita, he explained the extracted meaning from those books and also our father made us experience all his teachings. In our day to day life, for every incident and for very problem Nannagaru's teachings have become the solution. He has set an exemplary for all of us through his words and deedes. By being a household person without neglecting any activities, and showing us the path to reach God, such an extraordinary person is Sri Nannagaru.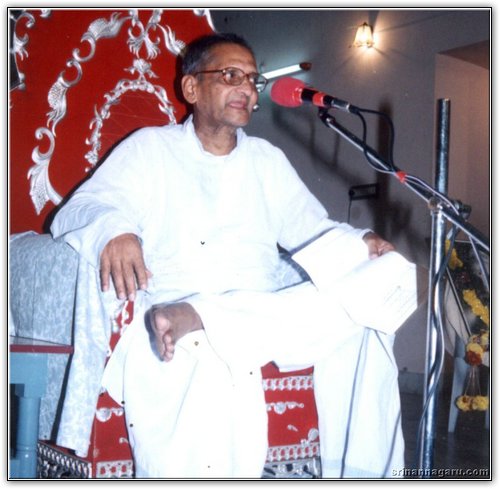 Sri Nannagaru has completely transformed our perception like sadhana as getting early in the morning, taking bath and praying to God for an hour and then trying to be as usual along the day, he defined the new way of sadhana – "Every day every minute can be used for the sadhana and sadhana means thinking about GOD, and sadhana is not the thing to do in life but it is living with sadhana"
One day we all were surrounded around nannagaru. Everyone was offering sweets and fruits to nannagaru
Suddenly Nannagaru asked me – "Amma, Bindu what are these called?"
I dint respond. Later he said these are called offerings, and then he took fruits on the table and handed it to my hands. I felt these are called as prasadam. Upon reaching home, I felt there was some inner meaning on fathers words because he repeated the same for so long time. I started thinking what is the meaning father? Then I got an answer
"Whatever the offerings that you offer, I will transform and will revert you back in the form of prasadam. I am waiting for your offerings of "I" so that I can give you the purified and transformed I into self".
I responded as – "Please excuse us Nannagaru, I dint get clear understanding on I itself. I don't deserve to realize the self, but what I know and what I experience is the mind. There are so many obstacles in my mind, hence if not complete, atleast some part I can offer to you. Please revert back the some part offered as prasadam, so that this will help in removing the other unpurified part of the mind. Thereby my mind transforms into a purified mind, it will be easy to walk in your path Sri Nannagaru"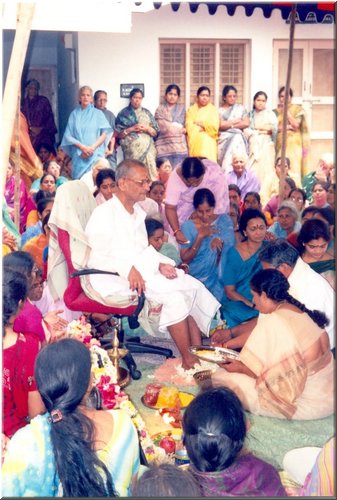 I never felt like, Sri Nannagaru lives only in Jinnuru. Whenever I called him as Father! And whenever I chanted as 'Gurudeva' everyday, I got a response from him. He was with me, and also he spent time with me, this is my experience. If chocolate or gold is offered to a kid, the kid chooses chocolate because the kid knows the taste of chocolate and doesn't know the value of God. Similarly if I was offered Moksham I don't know how it is and wat it is? What I know is the love of my father. Since I know the taste of happiness when my mind is completely filled with love of Nannagaru I would rather choose the love of Nannagaru than self realization. Without leaving a bad thought in my mind, my mind should be entirely filled with my father. I have the goal of living as Nannagaru instructed, and to offer my self as guru dakshina to Nannagaru.
GuruDeva!
If Brahma has given birth to this world, but you the form of Brahma are the one who has sown this seed, and given birth of spirituality into my life.
If this world is driven by Vishnu but you are the form of Vishnu who is driving us to lead a proper life.
If Shiva was the rhythm of the world, you the form of Shiva are making my heart to be in rhythm.
You are the meaning of Guru Brahma Guru Vishnu Guru devo Maheswaraha.
You are the trimurti swarupa.
Please provide me the faith of you is everything, fill up my mind with yourself, thereby my heart only beats for you.