I was born and brought up in Jinnuru(the birth place of Sadguru Sri Nannagaru). My school was beside the house of Sri Nannagaru. Everyday I used to visit Sri Nannagaru's house during interval, to drink water. But I don't remember seeing Sri Nannagaru during that period. I never knew that He is going to be my sole support in future.
My aunt used to say about Sri Nannagaru: " He is GOD Himself. It is our good luck that He stays here. All of you come and see Him." Then I asked her: " Who is Nannagaru? Are you referring to the son of Rajayammagaru? "
Sri Nannagaru once said:" You have not understood Lord krishna if you consider him as the son of Vasudeva. "Whenever I come across these words of Nannagaru, I am reminded of my question to my aunt: "Does Nannagaru refer to the son of Rajayammagaru?"
I got introduced to Sri Nannagaru in Hyderabad. That first sight of Sri Nannagaru and his loving call of 'Come, Ma! Venamma!' are still very much fresh in my memories.
Sri Nannagaru's speech looks as if he is serving us (the food of Jnana). As far as possible, I try my best to attend all his sermons. There would be at-least one sentence in the meeting that would touch my heart. When I contemplate upon it, I get immense bliss. Sometimes I feel if he has told a sentence only for my sake. The sentence also works upon me in the same manner.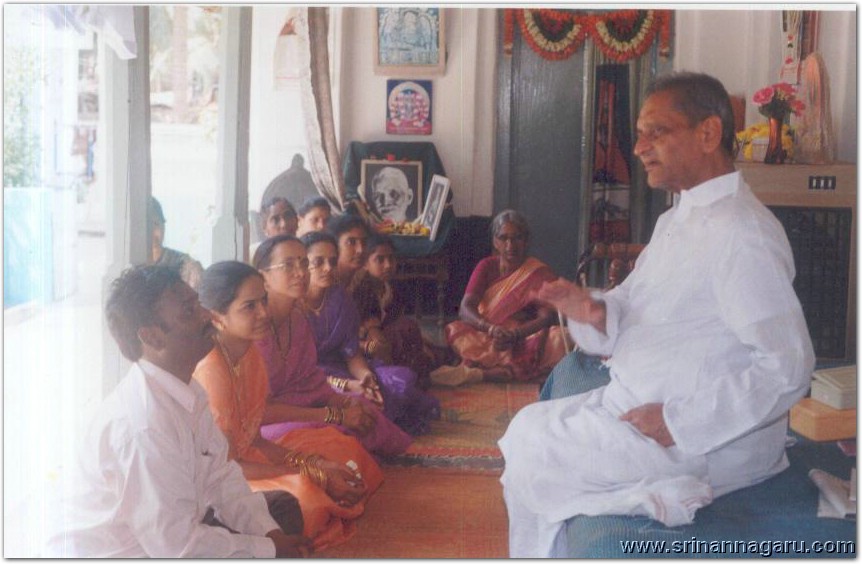 For a period of time, I felt very sad that I am unable to make any effort to become intimate to God. But I used to love the preachings of Sri Nannagaru. Whenever I heard such preachings( that touched my Heart) I used to experience boundless happiness. Once in one of the speeches, Sri Nannagaru said : "If I do not think of you, you cannot even
think of me." During that period of time, I thought of Sri Nannagaru almost throughout the day. I then felt: " What else do I require if Nannagaru is thinking of me for so many times?" Why should I feel sad that I am unable to make any effort to attain GOD? Isn't it he, who does everything? Is there anything which I can do on my own? " On thinking thus, I lost my inferiority complex (of unable to make any spiritual effort). I always felt that all my flaws will be washed away in His flood of Grace. Whenever his thought came to me, I felt as happy as I would feel when he calls me by my name 'Venamma'.
I was not attracted towards him for a particular reason. Even now I don't understand as to how I came to him or why I came to Him. It is only my sheer luck. His presence gives me the satisfaction of fulfilling a hundred desires. His words are very sweet. His loving and gracious sight indicate the Truth that He is not a mere human. My GOD is the peace that resides in my heart. I experience at least a bit of it through His words and also in His presence. I still keep going to him only for this reason.
It is said that one should possess a strong desire to attain Self Knowledge. But I never felt it should be so. I once asked Sri Nannagaru: " Is it mandatory that one should have an intense longing for Self Knowledge?" Nannagaru replied: "If you deserve, you will attain Self Knowledge even without your desire for it. If you do not deserve, you will not
attain it even if you possess the desire for Self Knowledge."
I always get great assurance (of being protected and saved) in his words. Practicing his words imply leading our lives as he indicates.
Birth and sorrow are inevitable if I do not die in your contemplation. Therefore, Oh! Arunachala, Bless Me that I do not forget thy remembrance in the last moments of my life.